Welcome Back Coach Kriesky!
Blackman has chosen a replacement for Coach Chandler Tygard: Coach Matthew Kriesky is now in the building to lead our football team to bigger and better places.  
Kriesky has been a coach for about 17 years. He started out at Blackman in 2006 then he went to Oakland and coached there from 2007-2013. Afterward, he coached at a small school called Forrest High School in Marshall County. Then, for the past seven years he coached at Centennial.  
So, why did Kriesky choose to come back to Blackman? 
"Blackman is a special place. Blackman is the first place I worked at, and I enjoyed working here. I was able to explore other opportunities after that. Once this opportunity came about, I just knew it was something I needed to go after, and I am very fortunate that Mr. Smith and the rest of the administration team gave me this opportunity. I am really excited," stated Coach Kriesky. 
Blackman is a logical choice because it is like other schools that Coach Kriesky has taught at. 
"This school is bigger and has a lot more enrollment of students than the school I was previously at. I think overall it is a lot similar," claimed Coach Kriesky. 
In addition, this move was the best decision for his family because Blackman gives Coach Kriesky's wife and kids a new opportunity, and it is closer to where they live. 
"My wife is also an educator, and she will work at either Blackman Middle School or Blackman Elementary School, and I cannot wait for my kids to enroll in Blackman Elementary School this year," said Coach Kriesky. 
Furthermore, Coach Kriesky is already familiar with Rutherford County's sports program due to his previous experience in the county and his twin brother, Will Kriesky, is head coach at Riverdale High School.  
Moreover, Kriesky has made great accomplishments throughout his coaching career. Since his takeover in 2016, Centennial made three playoff appearances and he had a 38-38 record score in six years. His reputation illuminated he was the right choice to make. 
Lastly, Coach Kriesky thinks that the Blackman football team is great, but there is something specific he would like to enforce before football season comes around: integrity. 
"Some of the things I try to instill on these young men is having good character; doing the right things on and off field. When you have men of good character, that do the right things, it will translate to wins on Friday nights. These are the things we are going to start out doing; doing the little things right. That means both at school and practice. We want to do the right things all the time and not just on the football field," expressed Coach Kriesky. 
Coach Kriesky's plans for the football team look promising. The team has a lot of potential and Kriesky is going to show them how to work hard, play smarter, and most importantly have good character. Everyone cannot wait to see Coach Kriesky lead our football team into victory for the years to come.  
Welcome back, Coach Kriesky!  
About the Writer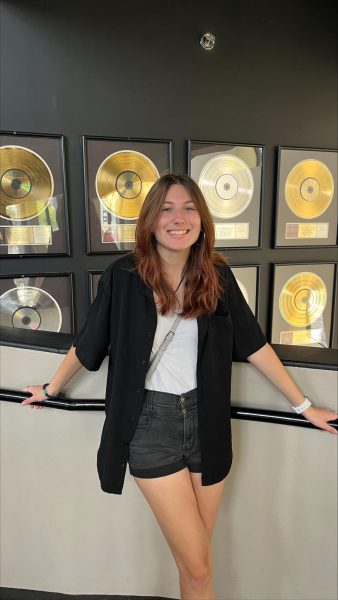 Allie Giroux, Associate Editor
Allie Giroux is a junior and this is her second year in journalism. In addition to being the associate editor for The Blackman Voice, she is also a member...