Mrs. Parris: Our Devoted Teacher to ESL Students
English as a Second Language (ESL) is becoming increasingly important in today's world. With the rise of international communication and the influx of immigrants, the ability to communicate in English has become essential. Fortunately, Blackman counts on extraordinary teachers such as Caitlyn Osborne-Parris to help with the program. 
Parris decided to become an ESL teacher after attending a summer camp and taking many years of Spanish classes in high school. 
"I was in college, and I had studied Spanish as my minor. I also worked with some volunteer organizations to help people who have immigrated here recently, so all of that got together and made me feel like I wanted to teach ESL," Parris commented. 
When moving to a new country, the language barrier can make even the most basic tasks challenging, especially for students. Situations such as not being able to express what you truly mean freely or being considered inferior to your peers can make students feel frustrated and outcasted; however, Parris makes sure this does not happen.  
"I like being a welcoming presence for people and helping them join the school community and just make the student feel safe and welcomed," Parris stated. 
Interacting with many different cultures and learning from all kinds of different backgrounds can have a massive impact on an individual.  
"Getting to know my students and being able to create a community for them at school has been one of the most impactful parts of being an ESL teacher. Creating a place where they can feel like they can speak their native language and be themselves while also growing as a person," Parris expressed. 
Even though ESL has become more known to people, there are still many things that are unknown to those who are not aware of the issues and challenges students face being part of the ESL program. 
"It's harder for my students to get into college because they have extra barriers with not being able to sometimes get the Tennessee Promise and stuff like that. I would also like for other teachers to know that, even though a lot of teachers already realize this, just because someone does not speak English that does not mean they are not intelligent," Parris stated. 
It is essential to provide a supportive and inclusive learning environment. This includes providing language classes that are tailored to the needs of ESL students, offering cultural sensitivity training to teachers and staff, and creating opportunities for ESL students to connect with others from similar backgrounds. 
"Allowing students to show their intelligence creatively is one of the things I would like for other teachers to know. Sometimes what looks like maybe laziness or being checked out, is just like mental fatigue from thinking all day in a second language, and I really wish more people would try to learn a second language. I am empathetic to my students, since one of the most impactful experiences I have had was when I went to Guatemala, and I could not speak English at all and that let me understand the mental fatigue that my students have. I just would like to recognize that my students are capable and intelligent, and there's just extra barriers they have to deal with," Parris expressed. 
Parris' impact on the ESL community is something acknowledged by her students and peers, as she is the creator of a strong community where inclusivity reigns. 
"She has a very big impact on our students; she not only teaches them in the classroom, but she also checks up on them: how they are doing in their other classes and in life. She probably has the biggest impact than any other teacher they have had," Coach Timothy Jones, one of the ESL teachers, commented.  
In a way, Parris is perceived as someone who her students can trust and feel safe with, which is a big challenge since a lot of ESL students deal with feelings of not belonging due to the number of cultural differences between them and the rest of the school population.  
"As a teacher, the students view her as someone who not only teaches them what they need to learn but someone they can come to when they need help. I think she is just someone they feel like they can rely on if needed. I view her as a teacher I try to live up to in my teaching and hopefully, one day, I'll be good as a teacher as she is," Jones stated. 
Michelle Loria, a student that graduated last year from Blackman, commented on the affect that Parris had on her. 
"She is a big support for me and has helped me grow in every way. When I was a junior in high school, I wanted to write for the school newspaper, and she was the one who helped me through that and made me believe that I could do it.  Even though I graduated, she is still there for me and that is one of the biggest differences between her and other teachers, the bond that we created," Loria expressed. 
Caitlyn Osborne-Parris has become a support and an essential person for those students who still struggle with prejudice, discrimination, or homesickness. She has created one of the most diverse and inclusive communities at Blackman while also helping her students overcome challenges and thrive in their new cultural environments.  
About the Contributor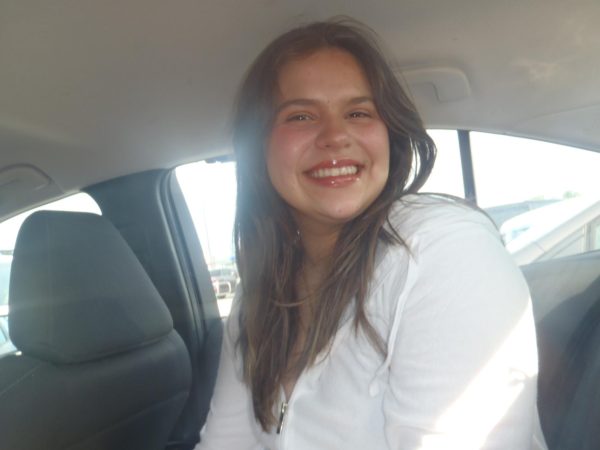 Ashley Torres, Spanish Editor
Ashley Torres is a junior, and this is her second year on The Blackman Voice. In addition to being the Spanish Editor for the newspaper, she is the treasurer...