Lady Blaze Basketball Coach Q&A
At the start of this season, I sat down with the Lady Blaze Coach, Jennifer Grandstaff. We talked about the team, the hopes for the season, and our exceptional players.  
What are you looking forward to this season? 
"Well, obviously we're just anxious to get the season going to see how we are going to line up with a good summer. Just want to see how competitive we're going to be. You know, you're always just looking forward." 
How is team dynamics this year? 
"I think it's great. I think we've got great team chemistry; we've got a lot of love for each other. The girls really enjoy being around each other. So right now, I think our dynamic's really good. Every day is a fun day to come to practice. I think they will enjoy themselves, and I know our coaches are enjoying the experience as well." 
Do you have any pregame rituals to prevent bad luck? 
"No, not really. I mean, we do our routine, we keep it pretty consistent. We'll do a walk through and then we'll eat together, and then the kids have a little bit of downtime, and. Then we'll go out for our stretches and, you know, when it's warm up, and then we tip it off." 
How do you feel the team has grown? 
"I think they've matured a lot socially and I think they've just gotten better at individual basketball players. A lot of kids invest time in the off season, so I think we made huge strides in both areas." 
How many have been talking about going to college and playing basketball? 
"Well, Emily Monson has already signed a scholarship to attend Purdue. Lauren Smith signed a scholarship to attend University of the South. Lovely Alexander definitely has aspirations to continue playing basketball after the season, and same with Dan Angela Wilson. I think they would like to continue their careers as well. So out of all four of them, I'm certain they will continue playing basketball after high school." 
Who do you think we should be looking out for this season? 
"I think we're a pretty balanced team. I've always told our team that if our Bigs get better, we get a chance to be competitive.  I think they've made strides in performance, but it's just something that's ongoing. Our guards are solid and are improving. So, if you want to be on the lookout for somebody, keep your eye on the Bigs." 
How do you feel the team will do this year? 
"I think they're a lot of fun. I think they like to have fun with each other, and I think they've got team chemistry that's just enjoyable. Lot of times, kids never get to that point, but I think they are a group that just likes being around each other." 
What's the team's greatest strength on the court? 
"We like to pride ourselves on defense. You know, we like to hold teams under a certain amount of points, we take a lot of pride in that. I think that is our strength." 
Do you have any words of encouragement? 
"Just keep working hard and plugging away with that positive attitude."
About the Writer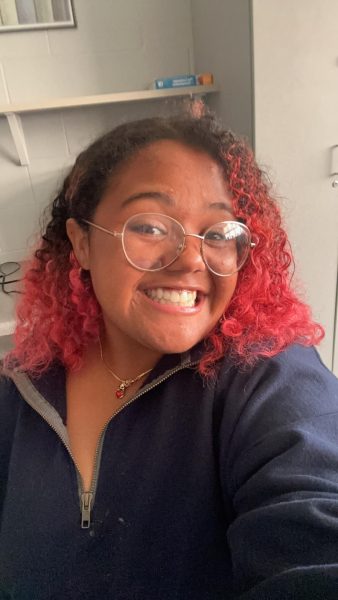 Marciana J. Johnson, Sports Editor

Marciana Johnson is a senior at Blackman and this is her  third year in journalism. She is Sports editor and also the Senior Class President. She...