Lauren Hutchins won BHS 2021-22 teacher of the year
Lauren Hutchins has been selected as Blackman High School's Teacher of the Year for the 2021-2022 school year. Hutchins is a Comprehensive Development Classes (CDC) teacher, specializing in life skills and adapting to the world.  
Hutchins teaches Special Education (SPED), where she is a very dedicated teacher in a structured setting. This is Hutchins' fifth year as a part of the BHS family. 
She is one of three SPED teachers, working alongside Emily Stock and Yessenia Peña. 
Hutchins earned her bachelor's degree at Middle Tennessee State University as a psychology major. Her senior year of college, she interned at the Regional Intervention Program, where she worked with many students who had behavioral diagnoses or special education needs.  
It was during this internship that Hutchins realized she wanted to work with these students permanently. 
"I grew to love helping these students and realized right before graduating that I wanted to work more closely with these students. I decided to move away from psychology to get my Master's of Education in Special Education," stated Hutchins. 
While she was in college, Hutchins was a student-teacher at both Scales Elementary and here at Blackman. Former assistant principal Dr. Clark Harrell had just found out he was going to be the principal at the then-new high school, Stewart's Creek.  
Hutchins applied for a position at SCHS, where she got an interview. She eventually got the job, where she stayed for four years before coming to BHS.  
She was involved in SPED activities such as the Best Buddies program, of which she even met her now-colleague, Emily Stock, in 2014. 
"We met through a Best Buddies event, but we both ended up disaffiliating with Best Buddies and starting our own clubs – she started Red Hawks' Best, and we began Blaze Buddies. Mrs. Hutchins and I were instant friends and would love seeing each other and catching up at various field trips and special education events," stated Stock. 
Because Hutchins specializes in life skills, she does many original activities with her students. One of their favorites is Recipe Friday, where students can cook and try new foods every Friday. Students are constantly learning and making new things in her classroom. 
Hutchins and her team frequently take their students on field trips to places such as Lucky Ladd Farms, the Zoo, and more. Last year, the CDC Prom was canceled due to COVID-19. Hutchins, alongside her coworkers, was able to decorate the Blaze Bistro to have their own CDC Prom for the students.  
"She cooks in the kitchen weekly with the students, which is always fun to watch, from the fabulous field trips she plans to places like Lucky Ladd Farms and the Zoo, to just looking at her in the classroom engaging in conversation with a student [are my favorite memories]," stated CDC educational assistant Stacy Seputis. 
Many other teachers around the building also help the CDC students make fun memories. One of their favorites was being able to incubate baby chickens and watching their growth each day. They also had the opportunity to observe the life cycle of butterflies in their classroom.  
Hutchins' CDC students are given many opportunities for real, hands-on experiences, allowing them to grow and learn while also having fun.  
"She has a heightened ability to empathize with [the students'] daily changes and needs, as well as empathize and understand the students' parents needs also. Mrs. Hutchins always brings a smile into the classroom and even on the most difficult days. She always has a great attitude even when there are times you may not want to always have a great attitude," said Seputis. 
Although they do many outside activities, some of their favorite memories are Blackman's own Homecoming events and pep rallies.  
The past two years have been difficult for teachers and students alike to navigate. Hutchins explained that the pandemic has been rough for their classroom, especially in a classroom full of students with health issues.  
SPED students often need to work in small groups or one-on-one in order to learn best, making distance learning a challenge. Some students have a short attention span when it comes to technology, and some just simply hate adapting to a new daily routine.  
Social distancing in itself was an extremely hard concept for the students to understand.  
"When my students need such a high degree of assistance, it is just not doable. Mask wearing was also another big struggle as many have sensory issues that simply couldn't handle it," stated Hutchins. "Some of our students are non-verbal so if they were feeling sick, we would have to pick up on cues that they weren't acting like themselves because they can't tell us on their own." 
Although the pandemic has been difficult, Hutchins was able to adjust her schedule to allow students to get used to a new daily routine. This included live zoom calls. Her students were excited to see each other on their computers.  
Hutchins works hard to keep her classroom fun, while also doing the jobs that are required for her career. She balances the fun activities with things that are usually behind the scenes, such as paperwork. Her colleagues would agree.  
"She wants our students to always be included and have a good time. As a wife and a busy mom of 3, she balances her personal life and job without ever complaining and hardly taking a day off. She is seriously our SUPERWOMAN, and we are so proud of her," stated Stock, CDC math teacher.  
When she found out she was going to be rewarded, Hutchins was both proud and surprised. 
"I never thought I would be [a] teacher of the year, simply because I don't get to leave my classroom a lot to get to know other students and staff members. I know the staff members that do know me know that this job isn't always an easy one. I do the best I can for my students, and it feels amazing to know that others see that too," said Hutchins.  
Being a teacher, especially in CDC and throughout the pandemic, requires patience and can be very difficult. Blackman is thankful to have teachers such as Hutchins impact her students and the school so greatly.  
About the Writer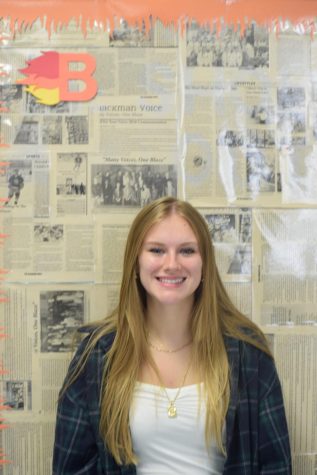 Brenlee Goins, News Editor
I'm a senior, and my pronouns are she/her. My hobbies include calligraphy, writing, and art. My favorite movie is Legally Blonde, and I enjoy listening...