From never working with teens to 20 years of experience with them – Meshotto's SRO Story
Twenty years ago, when Blackman High School was in its beginning years, our SRO, Mark Meshotto, came from the Murfreesboro Police department looking for a change in his career. As a layover, he came to Blackman High and fell in love with working with teenagers. This love led him to work with high schoolers for the next 20 years of his life. 
Mark Meshotto was raised in Murfreesboro, attended Riverdale High School, and started working at the Police Department of Murfreesboro when he was 21 years old.  
Seventeen years later, looking for a change in his career, he decided to start working as an SRO. Meshotto was initially assigned to Blackman Middle, which was not completely built. Because of this, he was sent to Blackman High for what was supposed to be temporary. After working for some months with teenagers, he fell in love with the environment and decided to stay. 
"Something I love about this job: the kids. I mean there are times that teenagers will grab me into acting foolishly and saying crazy things, but I don't know; there's just something about teenagers, as I tell the few adult friends I have," said Officer Meshotto. 
Over the years, he has learned valuable lessons that made him the SRO he is today. 
"I think the big thing was because all of my interactions had been with adults at that point, and adults can be superficial, while teenagers are pretty much what you see is what you get," stated Meshotto. "Now, not to say that some are comedians and try to present themselves as a better person than they are when they are not at school, but that's been the thing that kept me here, because mostly with teenagers, what you see is what you get, they are not trying to pretend, to be something more important than they are, because here, everybody is a student."  
But his work is more than just making sure that everyone is safe, it is to teach students a life lesson.  
"The thing that always is the proof of the fruiting of the job is when you encounter kids like whether they come back for a football game or you run into Kroger or somewhere, they go 'Hi Meshotto, if I listened to you, I wouldn't have been in trouble back when I was in high school,'" stated Meshotto. "Because anyone who knows me knows I am very flowing with that old man advice. Because the goal is not to put kids in jail, you know it's trying to guide you alone, your path of your four years of high school." 
Daniel Parkhurst, criminal justice teacher and a lifelong friend of Meshotto, stated, "He will come in and talk to my students, they all love it, and I think it's hilarious. He is very honest with my students, and that's good, they need that honesty." 
But his colleagues are not the only ones with memories and remarkable things to say about him. Students also consider him as part of their friends. 
"He genuinely cares about us, as people. A lot of people don't care, they are like ok, they are just students. But Meshotto is the type of person that works with us when we make mistakes," said Abby Ledbetter, senior. 
His gift with teens leads him to be more like a fragment of the student body than just the SRO at our school.  
"Last year we sat at his lunch table, and hung out like he was another one of us," stated Malachi Taylor, senior. 
But Taylor is not the only student with a hanging out memory with Meshotto.  
"I had to interview him one time, so I sit in his office with him and Mr. Lawless, and we just kind of joke around the whole time," stated Micah Wolfgram, another senior in the Dual Credit Criminal Justice class. "He is honest for a police officer, like most police officers you feel like it's someone above you, but Meshotto feels more like a friend." 
Officer Meshotto is eligible for retirement from the Rutherford County Sheriff's Department, but he has not submitted his official retirement.  
"I don't want him to go. I want him to stay. But I understand. He's been a long time in law enforcement, and he's ready to be done," explained Parkhurst. 
But students also have something to say about his eventual retirement.  
"I am really going to miss Meshotto's personality. He's very unique in his own way, and just love our talks in criminal justice class, about anything and everything," said Ledbetter.
The history of Meshotto started with an unexpected onset and ended up with an experience full of lessons and unforgettable memories. This is just a chapter of his life that will eventually lead to a new one.
About the Writer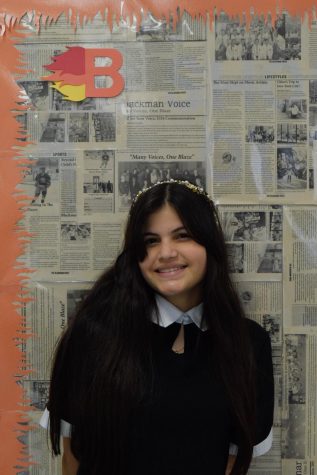 Michelle Loria, News Reporter
I'm a senior, and my pronouns are she/her. My hobbies are reading, writing about things that matter to me, singing, dancing, and acting. My favorite...