Former Blackman and Tennessee Volunteer football star Jauan Jennings selected in the 7th round of the 2020 NFL Draft by the San Fransisco 49ers
On late Saturday afternoon, chances of getting drafted looked bleak for Jauan Jennings. When the seventh and final round of the 2020 NFL Draft began Jennings had yet to be selected. Jennings had been projected at different times from as early as the third round to as late as the seventh round.
Finally, the wait was over, and Jennings got the call. The defending NFC Champion San Francisco 49ers selected Jennings in the early seventh round with the 217th overall pick. Jennings went on Instagram live to document the celebration with his family and was seen embracing and sharing tears of joy with his mother.
Coming into the draft, Jennings was known for his ability to break tackles. He led the country with 30 broken tackles in his senior year at Tennessee. Jennings also averaged 74.5 receiving yards a game and had eight total receiving touchdowns.
At 6'3" and 215 pounds Jennings has an ideal shape for an NFL receiver. NFL.com projects Jennings as a priority free agent, giving him a 5.40/8.0 prospect grade. This is likely because of what most people saw as a lackluster scouting combine performance. His opportunity to improve his combine numbers was then taken away after Tennessee's pro day was cancelled due to the coronavirus.
Coming out of Blackman, Jennings was a 4-star recruit and was ranked the 9th best player in the state of Tennessee according to Rivals. He was also ranked the 13th best dual threat quarterback in the nation. This was ahead of both 2016 Heisman trophy winner and 2019 NFL MVP Lamar Jackson and 2019 Heisman trophy winner and the number one overall pick in last week's draft Joe Burrow.
Current assistant coach for the Blaze John McCreery was on the coaching staff during Jennings' high school career.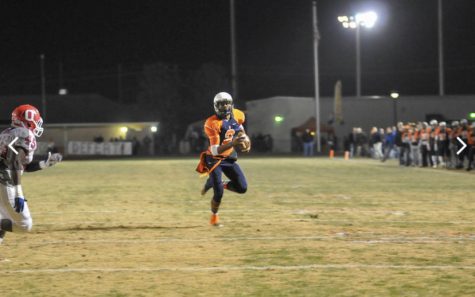 "It's very exciting to see a player that played at your school have his name called during the NFL Draft" stated McCreery.
Jennings committed to Tennessee under Butch Jones. After Jones was fired late in the 2017 season, Jennings was dismissed from the team after an Instagram live video went viral of him bashing the coaching staff. However, when current head coach Jeremy Pruitt took over before the 2018 season, he allowed Jennings back on the team after getting a strong reception from those in and around the program that he should be reinstated.
49ers head coach Kyle Shanahan complimented Jennings in a press conference after the draft.
"When you watch this tape, you know a lot of people in this league are going to love him. He was one of our favorite guys to watch. He makes plays, and there's a mindset to that guy that you don't have to talk to him to hear about."
49ers General Manager John Lynch also added that Jennings could play safety if he wanted and that he loves his attitude.
Not a one position player, Jennings has switched positions in the past. Before Jennings' freshman season at Tennessee in 2015, he made the switch from quarterback to wide receiver and remained there for the entirety of his college career, although he did quarterback some at different points in the wildcat formation during the 2019 season.
Jennings will have to fight for a roster spot, but since he is known for his competitiveness, he may like it best that way.
Jennings will be reunited with two of his former Tennessee teammates in San Fransisco. Cornerback Emmanuel Moseley started in the Super Bowl for the 49ers, and Jennings will join former running back Jalen Hurd in the receivers' room.