Quiz Bowl came back strong in its first post-COVID competition
Quiz Bowl is an academic club that challenges students on their academic knowledge in a Jeopardy style.  
"Quiz Bowl has been going on across the state for a while. It's kind of an academic standard sport; really, it's like a team game of Jeopardy. I took it over my second year here, so that was six years ago," stated Scott Baker, sponsor of the club. 
When COVID hit, competitions had to stop, along with the meetings. 
"Having a year without Quiz Bowl, just like that little club that I really enjoyed, having that year without it was just weird," said Em Cleghorne, senior. 
After a year they came back, stronger and smarter. With new members and a rough process of preparation, they attended their first competition on December 4th, where they gave their best and worked hard. 
"It's been about two years since [this Quiz Bowl team] had been in a tournament because of course COVID and things like that, so it was good to get back out there and compete again," stated Baker. 
It was the first competition for some students, which is the case of Jorge Avila, a senior and new member of the club. His specialties are sports and American politics.  
"It was like I had low expectations because I thought, 'There's a lot of smart people in this room,' something like, 'I don't know I am going to do that good,' but at the end of the day, I did better than I expected. So that was kind of fun to do, and it was nice because when you get a question right you are just like 'hey, I did it, I did that yeah,'" said Avila. 
But they are just not a club with members and competitions, they are a little family full of memories. 
"Since it is a small club, it's kind of like a small family in a way, so like we all get along well, and Mr. Baker, the sponsor, I get along with him well, he sponsors the other clubs I am in, so we all get along well with each other," stated Cleghorne. 
Mo Stephens, captain of the club, also describes her teammates as a small family.  
"My favorite part of the club is probably any time we are all together when all five of us are there. We all get really intense in the competition, and it's always a fun time," said Stephens. 
The club is also about growth, not just academically, but personally.  
"Em has been on the team since sophomore year. I know Mo started as a freshman, so I got to see them grow from freshmen to seniors and their knowledge has grown, they've grown. They are completely different people than they used to be, and I am glad to be part of that," stated Baker. 
Thanks to the fact that most students in the club are seniors, Quiz Bowl is welcoming students with many interests.   
"I just want to put out there that if anybody else has an interest in trivia and enjoys showing how smart they are, I'd love to give you guys a chance, come out to Quiz Bowl. We practice on Wednesday mornings before school, so come by my room, G-5, and I'd love to talk to people that want to join the Quiz Bowl team," said Baker.  
If you are interested in improving your academic skills and challenging your knowledge, join this club and keep the legacy of these hard-working students.  
About the Contributor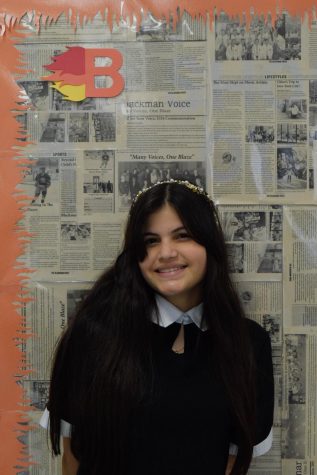 Michelle Loria, News Reporter
I'm a senior, and my pronouns are she/her. My hobbies are reading, writing about things that matter to me, singing, dancing, and acting. My favorite...