Blackman represented at National FFA Convention
The large and involved agricultural science program at Blackman High School allows students to participate in many hands-on events and fundraisers around the community. 
"It is a two-teacher program enabling us to maintain a fully functioning greenhouse, a poultry program where we sell fresh eggs, and a dog grooming business run by the students of the small animal classes," said Windy Willette, one of the agricultural (ag) science teachers. "Students who take any of these classes are eligible to join FFA and compete in the many contests available." 
Freshmen taking the course learn the history and importance of the programs, acquiring basic information before they are given the opportunity to choose which specific field they want to participate in as a sophomore. Plant sciences involve greenhouse management, landscape and turf management, and horticulture. Animal science includes small animal science and large animal science, along with pre-vet. 
Savannah Genck, junior, participates in the animal science side of ag science, currently taking her third level class: Large Animal Science.  
"We learn many things, but we focus on animals, small and large, and get to learn about many animals individually. There are also many learning skills and knowledge that can be used out of school as well," stated Genck. 
Although many students see the agriculture program as simply farming or getting dirty, many students who enter these classes end up enjoying it way more than they expected.  
Makala Blythe, senior, is one of these students, stating that she initially only joined the program because of her family.  
"I got into ag as a freshman through a deal with my mom. She told me it was a family tradition, and she only asked that I do it for one year. I entered a public speaking contest and instantly fell in love," said Blythe. "I ended up going to nationals with my Agriculture Issues team from Stewarts Creek High School. Once I transferred to Blackman my sophomore year, the program really accepted me. It offers a diverse set of people, learning and interests." 
Aside from just taking the courses, ag science students can form many new bonds through FFA, a nationwide organization providing leadership, growth, and career success training for those hoping to continue after high school. FFA members participate in many activities around the community, and even conventions that take place across the country. 
"A lot of the outside activities include giving back, whether it be offering new students different events they can go to in order to get settled or just showing them different things they can do. Another thing we do a lot is volunteer. Most of that is individual so everyone can pick things that mean the most to them," stated Blythe, who is also the Middle Tennessee FFA Regional Reporter.  
As for conventions, they are huge events with participation from schools everywhere.  
"We have gone to state and national conventions. We have a Greenhand Conference coming up for our sophomores. We have held contests before, gone to many contests ourselves, went to the State Fair Ham Breakfast, and many more. Honestly, my favorite had to be Nationals. I grew closer to everyone who went," said Genck regarding FFA's memorable events.  
The BHS FFA chapter currently has 11 officers, including Blythe and Genck. These officers were invited to attend the National FFA Convention in Indianapolis from October 27 -30, along with any other students who competed and made it far enough to be invited.  
The Convention was attended by around 55,000 people, including students, advisors, and guests. Blackman students attending were Makala Blythe, Jack Cashion, Victoria Bowers, Grant Petty (seniors), and Savannah Genck, Brett Patterson, Madison Bowers, Nicholas Lannom, and Jeremiah Davis (juniors). 
"Convention was a little different this year due to new covid restrictions, but it went extremely well for an officer team having to make a comeback since it was strictly virtual last year. There's a multitude of awards given out for each of the 24 contests, chapter (school/county) awards, individual awards (Supervised Agricultural Experience) which is basically what you do in agriculture on your own," stated Blythe regarding the effect COVID had on the convention.  
Although there were many awards given out, the experience itself was rewarding.  
"The highlight of the convention for Blackman High School this year was the four former BHS students who earned their American FFA Degree, a degree only 4% of FFA members ever achieve," said Willette.  
These students were Rebecca Horn and Cohen Bennett (Class of 2017) and CJ Appling and Jameson Kitzler (Class of 2018).  
The American FFA Degree is the highest honor awarded to FFA members who demonstrate a high level of commitment to the organization and who have made many accomplishments during their experience. The fact that Blackman alumni were awarded this means that they have shown significant dedication to the program.  
As BHS FFA continues to grow and be recognized, more students are developing a love for agricultural sciences.
About the Writer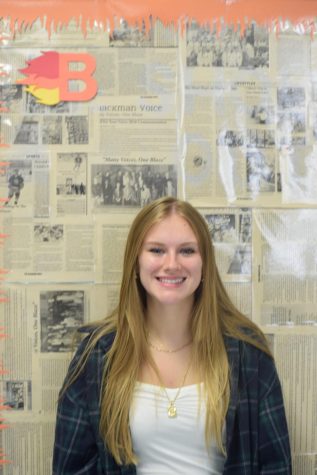 Brenlee Goins, News Editor
I'm a senior, and my pronouns are she/her. My hobbies include calligraphy, writing, and art. My favorite movie is Legally Blonde, and I enjoy listening...