Nurse Durrett: adapting to being a school nurse amidst a pandemic
Nurses are often faced with many challenges throughout their careers, and with the growing pandemic, those challenges are increased. 
Amanda Durrett, the nurse at Blackman High School, was born in Nashville, Tennessee.  Following high school, Durrett attended Nashville State Community College where she obtained her Associates of Science in Pre-Nursing.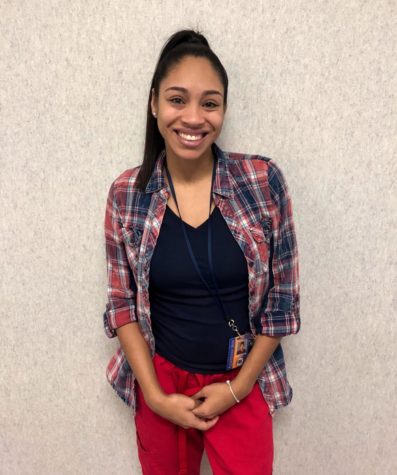 She then transferred to Lipscomb University and finished with a Bachelor of Nursing. Durrett started her nursing career in 2016 at the Centennial Medical Center on the Cardiac Stepdown floor.
"The heart has always been my favorite," said Durrett.
She joined the BHS staff in 2018; however, this year will be her last as she will be continuing to further her career in nursing.
"Sadly, this will be my last year, as I am going back into the hospital while I work on my Family Nurse Practitioner degree and one day have my own practice," stated Durrett.
Because of the pandemic, Durrett must be meticulous in her working environment as school policies have changed due to the growing number of cases involving COVID-19.
"As far as at school, clinic policies have totally changed. With the unknown, I must treat every student as a positive case until proven otherwise, for the safety of our students and staff. In a typical year, a runny nose or stomachache could be easily managed, and students could continue their school day. But now, even just one symptom could be COVID–related, therefore, going back to class often isn't an option anymore depending on the case," stated Durrett.
The COVID-19 pandemic has increased the need for more medical precautions within schools. Durrett must treat each COVID-19 symptom with great caution, as any student could be a potential positive case.
Some changes in Durrett's work routine include: 
Assessing proper PPE, 

also known as 

p

ersonal 

p

rotective 

e

quipment, which includes gloves, gowns, masks, 

shields, etc. 

 
Cleaning the clinic numerous times throughout 

the day. 

 

Sending a

ny symptomatic student home unless a medical plan indicates a 

specific 

reason for that symptom.
"I feel that we have a structured and manageable process. I can't lie, I was a bit concerned when school first started, because of the unknown. Now that we are in the 3rd semester, and I have seen how our COVID policies have worked, I think RCS is doing a pretty good job, considering the circumstances. You can't always satisfy everybody, so I feel that the way we have things set up is as close to what we can get to allowing parents an option. Often our job can be quite difficult if a parent disagrees; however, good ole Nurse D can handle a parent or two. I would like to say I'm a tough cookie," said Durrett.
The school's reopening was of great concern for many parents, teachers, and students; this affected nurses across the county just as much. However, through all of the updated guidelines, Rutherford County Schools has aimed at being a safer environment for students and staff all around. Durrett has managed communication with students' and parents to ensure a seamless transition to this school year of change.
"The role of a school nurse can be undermined by other nurse roles in the community. Honestly, before I became a school nurse, I, too, thought that it would be easy. But being a school nurse also comes with challenges and moments where we must use our critical thinking skills. We have students with critical needs just as any other nurse would in a hospital setting. That includes oxygen, ventilators, tube feedings, critical medications, and conditions that can cause emergent situations," stated Durrett.
School nurses do not receive enough recognition for the work they put in to keep students safe and healthy. As Nurse Durrett explained, she accommodates students with any kind of  health conditions as a positive case until it is proven negative.
"Just like many healthcare workers, we also risk our health, coming into contact with COVID on a weekly basis. All that is to say, thank you, school nurses! They work hard, and sometimes make it look easy! I am blessed to be at a school where I am obviously loved and respected, and I truly thank my students and staff for always being so good to me! GO BLAZE!" said Durrett.
Just as nurses in hospitals and doctors' offices risk their lives by working on the frontlines of a pandemic, school nurses can also be considered frontline workers. Working in schools carries the risk of contracting COVID-19.
Though the past year has seen much change, Durrett has done her best at keeping a positive viewpoint.
"Sometimes you must look at the bright side of negative situations, and with COVID, that is what I have tried doing," said Durrett.
Each person is susceptible to change, and whether it is good or bad will determine how that person reacts to that change. Durrett showed us that despite the challenges of the pandemic, not everything has to be negative.
About the Writer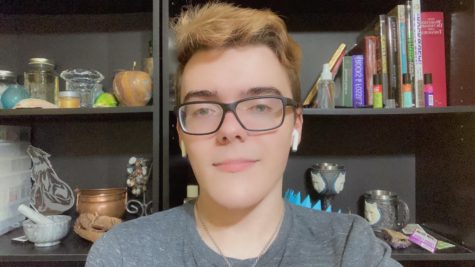 Matt Taylor, Reporter
My name is Matt Taylor, and I'm a Junior. My main goal in life is to be able to die knowing I won't be forgotten. I want to have a lasting impact on society,...