Billie Eilish: Next Big Thing?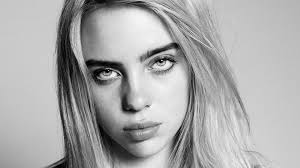 Savannah Blades, Reporter
November 26, 2018
Billie Eilish Pirate Baird O'Connell, or as the world knows her Billie Eilish. The 16 year old girl from Los Angeles, California has been singing since she was a little girl. She's always had a claim to fame since Finneas O'Connell, her brother, has been a songwriter in the recording industry for many years.  
Eilish came out with her EP (extended play), don't smile at me, August 11, 2017. It has a rating of 99% on Google Play and is considered "bold" and "confidence driven," according to Atwood Magazine. From this EP, she has had quite a few singles on the iTunes charts. The entire EP is a total of 32 minutes long. 
Billie Eilish is best known for her musical abilities, but she is also a fashion icon. She is seen making a statement in her oversized clothes that unexpectedly look great on her tiny figure. Eilish is also known for her famous bluish-gray hair; she considers her hair as a "power statement." Her hair had been that color since she was 14 years old.   
Eilish is an upcoming icon for young girls, predominantly ages 13-18. The type of music she writes and sings cater to what teenager girls (and many guy,s for that matter) enjoy listening to. 
She "speaks the teenager language". Which basically means that she knows exactly what a teenager is going through and what they are thinking about all the time.  
Her song idontwannabeyouanymore says, "Show, never tell/ But I know you too well/ Kind of mood that you wish you could sell".  
These lyrics show that teenagers have major mood swings. She explains this in more detail in her Genius analysis on Genius' YouTube channel.  
This 16 year old girl has impacted teenagers in her community and around the world. She has been helping encourage young voters to go into the voter booth and vote for what they believe in.  For someone who is not old enough to vote, she still creates an impact for voters.  
Billie Eilish is now working on her first album with her brother. She plans to go on tour soon, either opening for someone or headlining a tour herself. 
Eilish has been working for a long time to get where she is now. She now has two new singles out, lovely ft. Khalid and when the party's over. You can find her songs on all platforms for music.