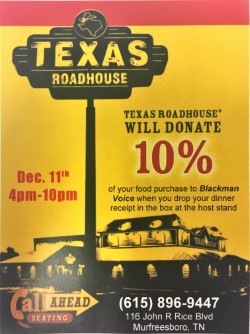 Mckenzie Clarke, Co-Editor-in-Chief

December 4, 2017
Journalism is having a fundraiser! On Monday, December 11th, the team is partnering with Texas Roadhouse to raise funds to support our program. The event will take place between 4 p.m. and 10 p.m. Ten percent of the profits will be donated to the staff with every meal bought, so friends and family a...

Morgan Tincher and Danielle Paredes

November 3, 2017
Do you know what you want to do with your life? Is the decision of picking a major stressing you out? Do you know how much your dream job pays? If you answered no to any of these questions, we can help! Go to http://launchmycareertn.org to narrow down majors, compare salaries, and find the best colle...