2021-22 Preseason Q&A with Blackman boys' basketball coach Barry Wortman
The Blackman Blaze boys' basketball team begins their 2021-22 season on Monday, November 22, at Centennial High School in the first game of the Cougar Classic.  
A few weeks ago, we sat down with head coach Barry Wortman to discuss the upcoming season. Wortman gave his thoughts and expectations on a team that is coming off another sectional appearance last season.   
Last year's team was a couple of calls going their way from making the state tournament but what do you think that team's legacy is? 
Wortman: Team 21 made as much improvement from the preseason to the end of the season as any team I've had at Blackman. Not only did we have to replace 91% of our scoring but also 94% of our rebounding from a team that made the state tournament the year before. We lost our first game of the season but really reinvented ourselves. The guys really embraced their roles and our team made steady progress which included our 10th straight sectional appearance vs Cleveland. 
Has it been nice to have more of a normal year this year with COVID restrictions being relaxed? 
Wortman: Absolutely, every day last year was a tremendous challenge for our players, coaches, and everybody involved in our program. I thought we handled it well, but to be able to get back to some normalcy has been incredibly refreshing.  
Who do you think the leaders on this team are right now? 
Wortman: Braxton Caruthers (senior) leads by example, and you know what you're going to get from him every day. He's available and accountable and he's someone our staff and players highly respect. Justin Dedrick (senior) has worked extremely hard this summer and fall, has gotten himself in excellent shape, and embraces being a glue guy in our program. Jackson Stricklin (senior) doesn't only embrace his role, but he stars in his role, which provides a great example for our team.  
Last year finding quality non-district opponents was more difficult than normal, has it been easier this year? 
Wortman: Our pre-district schedule will be very challenging. To open our season, we play three state tournament caliber teams, as well as playing in the always tough Outback Classic and Father Ryan Christmas tournament which should prepare us for the rugged District 7AAAA schedule.  
What are you looking forward to most coming into this season? 
Wortman: With so much youth and inexperience it's always fun to see how much we can grow and develop over the course of the year. I'm excited to see how much better this team can get and if we can reach the full extent of our potential.  
Who are some players who some might not know about that you think could potentially have a good year? 
Wortman: Nasir Scaife (senior) is a talented wing that can score at all three levels and can guard at multiple positions. He's extremely mature and brings great leadership and toughness to our team. Isaiah Divens (junior) embraces, and loves being coached every day in practice. He brings a high level of toughness to our team on both ends of the floor. Campbell Lee and Trey Saffold are two sophomores that can play multiple positions, are great teammates, and they both embrace getting better on a daily basis. Our freshman class is also full of talent and spirit with multiple players who will have the opportunity to impact both our developmental and varsity teams. 
Can you give an update on how some of your alumni are faring in college? 
Wortman: We've been really proud of how our alumni have been doing. The COVID year is going to allow some of them to continue their college careers and play an extra year. Brandon Thomas has scored 1,000 points at Bryan College so we're looking forward to watching his senior year there. We're extremely proud of Nathan Nelson as he got an offer from one of the most prestigious law firms in Washington D.C. after finishing his playing career at South Carolina. Trent Gibson is entering his senior year at Tusculum, as well as Donovan Sims and Jaellan White at Middle Tennessee. We're also excited about our 2020 class that includes Jalen Page at Lee University, Jalen Stayton at Tennessee Tech, T.J. Cross Kailon Benton-Hamilton Kaden Paul and Jaquari Johnson at Volunteer State, Zoryn Harrington at Motlow State, and Ray Tyler at Tennessee-Wesleyan. Our 2021 class beginning their college careers this season includes Josh Alexander at Colombia State, Dontae Stringer at Central State University, and Jabari Mastin and KeVarius Martin at Volunteer State, and Mark Cooper at Emory & Henry. 
How good is this team's work ethic? 
Wortman: We love this group because they allow us to coach them extremely hard, which we think is important for an inexperienced team. Their work ethic in the weight room, on the practice floor, and in individual workouts has been at a high level.  
What is your favorite thing about this team as a whole?  
Wortman: They have a great spirit about them. When we come to the practice floor or the film room, we have the luxury of just coaching basketball and that speaks to the character and the spirit of this team.  
To keep up with the 2021-22 Blackman Basketball season, go to blackmanbasketball.com and follow them on Twitter @BLAZE_HOOPS.  
About the Writer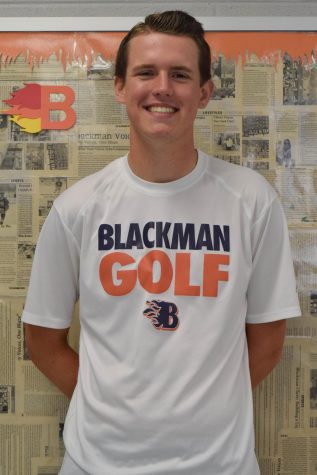 Christian Skelton, Sports Editor
I'm a senior, and my pronouns are he/him. My hobbies are watching sports and playing video games. I watch Star Wars and Marvel TV shows and movies pretty...