2020-21 Preseason Q&A with Blackman boys' basketball coach Barry Wortman
The Blackman Blaze boys' basketball team begins their 2020-21 season on Tuesday. December 1, at Coffee County.  
In late November, we sat down with head coach Barry Wortman to discuss the upcoming season. Wortman talked about his expectations for a team that is looking to continue its winning tradition after a 26-3 record last season. 
Last year's team was preparing for their quarterfinal state tournament game against Mt. Juliet when the world stopped turning due to COVID. How much of an opportunity was missed for those guys last year?  
Wortman: It was obviously very disappointing for our guys. We felt like we had a veteran team that was playing together [who] had a great chance to win a state title. We had a lot of respect for the state tournament field, but we felt really good about our team. It wasn't just disappointing for us, but for everybody across our state that had invested so much into [basketball]. 
What legacy does last year's team leave considering there was no true champion crowned at the end of the season? 
Wortman: Personally, I think that's a program by program and team by team answer. We had won 14 games in row including a district, regional, and sectional title. I felt like this team was as poised and ready to win three games in a row as any team we've had in the past decade.  
Do you think last year's team was poised to win the state championship if not for the cancellation? 
Wortman: I really do. For about the last four years, Memphis East kind of had everybody playing for second. I think our 2016 team had a great chance to win it all and was the second best team in the state. I thought our 2018 team had a great chance as well. With Coach Hardaway and Memphis East moving to the University of Memphis, the state championship was back open to the field. Our team was playing extremely well, so we thought we had a great chance to go get our second state title. 
How smooth has your offseason been in regards to COVID and all of the restrictions you have to follow?  
Wortman: It's been a very challenging situation for not just us, but for every team across the state. After it all ended in mid-March, other than a couple meetings with our team via Zoom, we did not have any contact at all with our team at all until June 1. No spring and summer practice for a team that's in a total rebuild with eight seniors graduating? It's tough in a lot of ways as you might imagine. It's tough from a team chemistry standpoint, finding out what our strengths and weaknesses are, and just us getting better as a whole. The fall has been pretty solid. Obviously, we're navigating the COVID issues just like any other program across the country at the high school level. Hopefully, this adversity that we're going through right now can turn into a positive for our players as they move forward. 
Was it harder to schedule non-district opponents this year than in years past?  
Wortman: It really was. Most people consider the N2 Hoops Invitational as one of the top tournaments in the Southeast. We've always played in that, and it was cancelled. December 1st is the latest we've ever started the season. It might be a setback early, but hopefully our team will take shape and improve as the season goes on. 
What are you looking forward to the most coming into this season?  
Wortman: With no spring practice and no summer camps and eight guys graduating, it will be rewarding if we can get this team improving game by game and playing its best basketball by the end of the year. We're playing quite a bit different offensively and defensively. We've also got a lot of guys in new roles. Seeing how all of that comes together is always exciting for me as a coach and for us as a program.  
Last year you had eight seniors on this team making you a veteran heavy team. This year you are a much younger team compared to last year. Who do you look for to become the new leaders of this program?  
Wortman: We're looking for and expecting great leadership from Mark Cooper (senior). He is the one player returning that has seen quality playing time. We also have two senior wings in Kevarius Martin and Jabari Mastin who have been in the program and paid their dues. We're looking for big things from both of them as they can play and guard multiple positions. Shooting guard Jackson Stricklin has also made a nice jump going into his junior year. Combo guard Braxton Caruthers (junior) also has a really good feel for the game. Two frontline guys that complement each other extremely well are Dontae Stringer (senior) and Josh Alexander (senior). Both can score the ball facing the basket, as well as with their back to the basket and they're both quality two hand rebounders. 
Can you give us an update on how some of your alumni are faring in college basketball? 
Wortman: We're very proud of the 29 former players in the last decade that have gone on to play College Basketball. Jarrell Reeves just completed his playing career at Ohio University and graduated in December and is entering grad school. Isiah Hart just completed his playing career at Austin Peay. Both Trent Gibson and Donavan Sims are all–conference guards at Tusculum and Middle Tennessee respectively. Brandon Thomas is an all-conference performer at Bryan College. Nate Nelson is playing quality minutes at South Carolina. Hard-nosed Jordan Burchfield is having an early impact on the practice floor at Austin Peay. Last year's senior class are all thriving in the classroom and on the practice floor and they're all excited to start their seasons. Two guys that are flourishing at the professional level are Darius Thompson and Justin Coleman and we're really proud of them as well. 
How good is this team's work ethic? 
Wortman: These guys have been good with that, and they've been available and accountable every day. Our expectation is to be as good as you can be on a daily basis. For this team to be good, it's going to have to improve a lot over the course of the next three months. We're not near there yet. However, accountability, competitiveness, and work ethic have not been a question. I like this team in those areas for sure. 
What is your favorite thing about this team as a whole? 
Wortman: What impresses me about this team is that they understand who they are and where they are. We need to play with a high level of toughness, and prove our ability to rebound the ball, and take better care of the ball. As this group gains more experience, and the game slows down to them, we will take better care of the ball. This team likes each other, and practices for each other, which makes going to the practice floor enjoyable. 
About the Photographer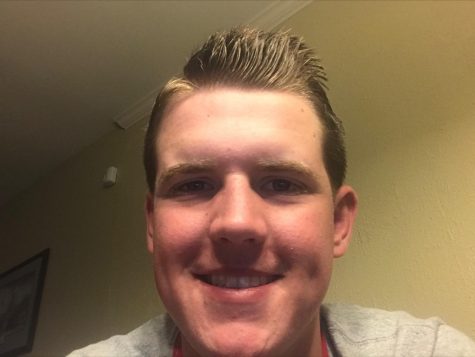 Christian Skelton, Sports Editor
My name is Christian Skelton, and I'm a Junior. My main goal in life is to become a full-time sportswriter and make a living doing what I love. I play...