We are Blackman +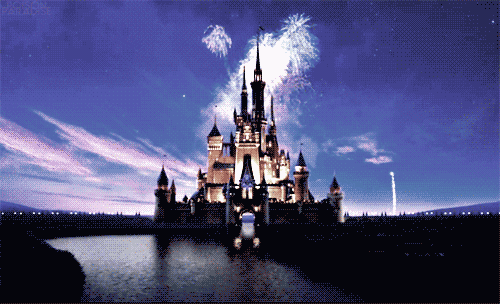 The Blackman Basketball Homecoming is coming up next week. The week of January 13-17 is packed with Disney themes and fun-filled activities. 
The beginning of the week of January 13-17 Blackman starts the Disney themes. Monday is Pixar day (students can dress up as their favorite characters or twin with a buddy) and Tuesday is Star Wars day (dress up as a character from the movies or wear camouflage apparel). Wednesday is Marvel Superhero day (dress up as a superhero character or superhero apparel); Thursday is Disney day (dress up as any Disney character, wear Disney apparel, or dress as a tourist). Friday is Blaze Day where students and staff should wear Blaze apparel.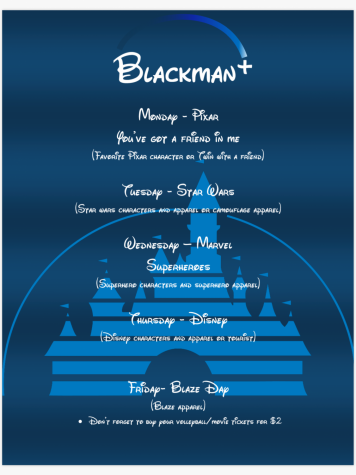 "Seniors voted on Disney unanimously, and it is most likely because they had a Disney theme for their freshman year. They began with Disney, and now will end with it too," Erica Kearns, Student Council sponsor, stated. 
"I was here my freshman year, but I only vaguely remember there being a Disney theme for our homecoming. Even though I can't remember much from it, I'm still excited about the theme chosen. My favorite day is the Marvel day since I've been watching their movies since I was little," commented Randy Cousin, senior.  
The themes have proven to be so well-liked by some students that there are even favorites being chosen. 
"I wasn't here for when the seniors got to have their Disney theme since I'm a year younger, of course, but these seem to be really cool. I think all of the days will give many people something fun to do with their friends, and I look forward to dressing up with mine too," stated Sophia Patton, junior. 
Across the grade levels the Disney theme chosen seems to have a positive response. These fun days lead up to the basketball homecoming and the presenting of Blackman's 2020 Homecoming Court. 
 This year's underclassmen homecoming court is Robert Hill, freshman, Ben Turner, sophomore, and Jayen Patel, junior. The senior candidates for the homecoming king are Malachi King, Conner Murphy, Jalen Page, Brennan Reed, and Grant Turner.  
The homecoming basketball games start at 7:00pm next Friday, January 17th. During the half time of the girls' basketball game, the homecoming court will be escorted out, and the homecoming king of 2020 will be presented. 
The homecoming week will be full of fun activities for students and teachers. Included in these activities are the choices of going to the volleyball game, watching a movie, or staying in 4th period; the volleyball game and movie both cost $2 to watch and staying in 4th period is free. Starting January 13th, students and staff can also purchase a homecoming shirt at the bank during every lunch.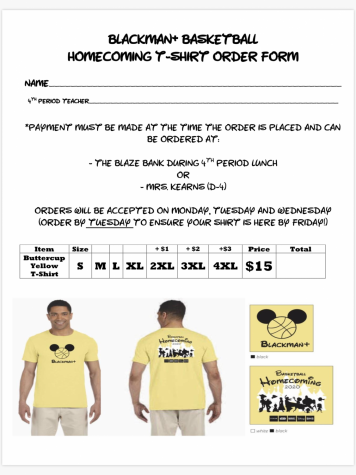 1st

 

8:30

 

8:55

 

 

2nd

 

9:00

 

9:25

 

 

3rd

 

9:30

 

9:55

 

 

5th

 

10:00

 

10:25

 

 

6th

 

10:30

 

10:55

 

 

7th

 

11:00

 

11:25

 

 

4th

 

11:30

 

1:10

 

 

1st lunch

 

11:30

 

12:05

 

 

2nd lunch

 

12:05

 

12:40

 

 

3rd lunch

 

12:40

 

1:15

 

 

Volleyball/ Movie (ticketed) 

 

1:15

 

2:40

 

Students who do not have a ticket will stay in 4th period. Teachers with 4th period planning/supervision will be assigned supervision duties. 

 

Pep Rally

 

2:45

 

3:30

 

All students/teachers are in the gym or auditorium (holding area). 

 
About the Writer
Mckenzie Wade, Sports Reporter
My name is Mckenzie Wade, and  I am a Junior. My main goal in life is to be successful and financially stable. A fun fact about me is I hate math. My...