Tik Tok trend encourages students to vandalize schools
High school students are no stranger to the crime of vandalism. Bathroom stalls are constantly written on, random buildings spray-painted, and more. However, when it comes to social media, it seems as though students will do anything for a few hundred likes. 
The popular social media site Tik Tok has encouraged a new viral trend to occur throughout schools around America. The trend encourages students to vandalize and steal throughout the building, typically in bathrooms, and post it for the world to see. Blackman High School has been no exception to this trend. 
Mark Meshotto, Blackman's School Resource Officer (SRO), has been forced to deal with those who are involved in the vandalism. 
"Vandalism is considered a misdemeanor charge until it reaches a certain dollar amount, when it then becomes a felony. Either way, you will be charged for something," stated Meshotto.  
As for physical punishment, vandalism charges, unlike many others, require the student to appear in court.  
"After talking with youth services, with certain offenses, they will do a diversion program, meaning they do not have to appear in front of a judge. Vandalism, however, does not get that option. They must appear in front of Judge Scott," said Meshotto.  
Of course, many students are also frustrated with the vandalism, as it affects the entire school. Trash cans have been taken out of bathrooms, and one bathroom was even shut down because of flooding. 
Outside plumbers have taken control of the situation, as the flooding was even out of reach for the school custodians to fix. This simply takes time out of someone's day to fix an issue that should never have happened. 
"The janitorial staff for the school are really great people, and they had to work probably four or five times harder than they normally do – and they already work really hard – to try to clean all of that up. So, it's really sad that people care so little for each other now," stated Daniel Parkhurst, Criminal Justice teacher.  
It is not only the janitorial staff that is affected by the situation. Many teachers, and even students, are negatively impacted.  
"It's very unfortunate that those committing these acts of vandalism had so little care for all the people that were affected by it. The teachers lost a lot of time because we were having to deal with guarding the bathrooms," stated Parkhurst. 
Because of the bathroom situation, there are few options for students during class, which also means longer lines and more messes, as more and more students are using the same bathrooms.  
"I find it frustrating. Anyone who participates in a trend like this clearly does not think about the fact that they will be the reason our privileges are taken away, which ultimately just means school will be less enjoyable," stated Alyssa Goodman, student body president.  
Our student body has been affected tremendously by the behavior of those students involved. Many have never seen the school in-person, as distance learning was an option last year, which many students took advantage of. The fact that our school is being vandalized by its own students surely does not help these new students feel welcomed and excited to attend school. 
"At the end of the day, you're costing yourself, the consumer, or the property owner more money. To have a school system that is already strapped for cash trying to provide what is necessary to educate young minds, you begin to divert money away from this and towards the vandalism that shouldn't have ever happened in the first place," said Meshotto.  
So, what does this mean for our school morale? Are students feeling less pride in their peers and their school because of the social media trend? 
Kiyah Shelby, freshman class president, has expressed her disappointment with the vandals during her first year of high school.  
"This is not what I had expected for my first year. It's very childish, and it's not what I imagined Blackman would be like," stated Shelby.  
Weeks later, BHS has noticed a decrease in vandalism, with bathrooms reopening and things slowly returning to normal. The student body and staff hope to keep it this way, and to restore the morale of the school.  
About the Writer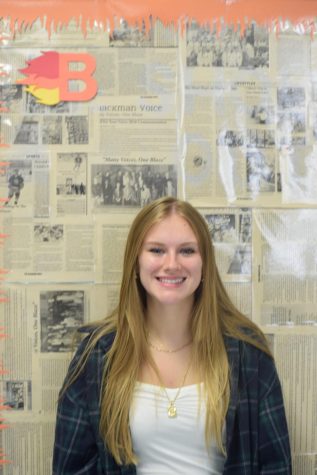 Brenlee Goins, News Editor
I'm a senior, and my pronouns are she/her. My hobbies include calligraphy, writing, and art. My favorite movie is Legally Blonde, and I enjoy listening...