5 Unforgettable Poetry Books
Hang on for a minute...we're trying to find some more stories you might like.
5 Unforgettable Poetry Books
Poetry has been around for thousands of years; each poem always telling a different story. The art form has changed as time goes on, but it still holds the same meaning. There are many different types of poetry in the world of literature; here are the ones that stand out the most.
High Poets Society by B. Abbott
"I sing through hurricanes.
Happy songs in the rain.
Because storms can't ruin my parade;
I dance in puddles, I'll never change." (Abbott 29)
B. Abbott is a Boston based writer, whose works have been featured in many online publications. His other works include, High Poets Society, High Poets Society II, and Paper Planes.
B. Abbott interacts with his followers thorough various social media sights, each sight holding snippets of his work to get others interested. His social medias include Twitter, Instagram, and Facebook; his social media handle for all websites is @HighPoetsSociety.
This type of poetry follows rhyme schemes and clever word play to relate to the readers. This book is inspirational and a quick read for anyone.
This is the first book in Brian Abbott's poetry works. This book relates more to teens and adults.
Adultolescence by Gabbie Hanna
"Everyone's asking if I'm feeling okay.
The truth is I'm always feeling this way.
I'm just having a hard time disguising it today." (Hanna 15)
Hanna is a well-known comedian and social media influencer with millions of followers. She is a former resident of Pittsburgh, Pennsylvania, who currently resides in Los Angeles, California. Hanna writes in a sophisticated confessional style.
This style of poetry varies between familiar nursery rhymes and confessional style. From internet slang to jokes and dreadful situations, this book has it all. Everyone can find something in this book that relates to them.
This is Hanna's first book, and she dedicated it for all the kids who grew up too fast, all the adults who refuse to grow up, and everyone who is both.
I Wrote This for You by Iain S. Thomas
"And though the waves might bring you down
and though the currents might pull you under,
the sky is always still right above you.
And your friends will show you the way." (Thomas 188)
Thomas is a South African born poet and author. I Wrote This for You is his #1 bestselling book. He currently resides in Cape Town with his family and actively promotes his writing through social media.
This type of poetry is all about expressing emotions. The poems range from full pages to a handful of words.
Thomas's works include, I Wrote This for You, Intentional Dissonance, 25 Love Poems for the NSA, I Wrote This for You: Just the Words, I Wrote This for You and Only You, How to Be Happy: Not a Self-Help Book. Seriously., 300 Things I hope, and I Am Incomplete Without You: An Interactive Poetry Journal From the author of I Wrote, and his upcoming book, Every Word You Cannot Say.
To Make Monsters Out of Girls by Amanda Lovelace
"He told me he never learned how to swim;
I told him it was okay because I did." (Lovelace 99)
Amanda Lovelace is an American based poet, she won the award for Goodreads Choice Awards Best Poetry.
Her book To Make Monsters Out of Girls is based upon real past experiences. In this book she recalls her experience with being in an abusive relationship.
This form of poetry is the kind that helps people move on; it has a motivational relatable tone.
Lovelace's works include, The Princess Saves Herself in This One, The Witch Doesn't Burn in This One, To Make Monsters Out of Girls, Disconnected: Poems & Stories of Connection and Otherwise.
Her upcoming books are, Slay Those Dragons: A Journal for Writing Your Own Story, and The Mermaid's Voice Returns in This One.
Her by Pierre Alex Jeanty
"What good are flowers without water?
What good are promises without actions?" (Jeanty 2)
Jeanty is a Haitian-American author, a poet, and social media influencer; he is currently married.
This type of poetry is simple and heartfelt, and this book is a collection of empowering poems.
Jeanty's works include, Unspoken Feelings of a Gentleman, To the Women I Once Loved, Unspoken Feelings of a Gentleman II, Her, HER. II, In Love with You, Him- Special Edition, and Him.
These books are all unique in their own ways from dark personal experiences to funny, light, and airy poems. You should read them too and develop your own opinion. Reading these books will give you an insight into the world of literature.
Works Cited:
-Abbott, Brian "High Poets Society", Venice: Monarch Publishing, 2016
-Hanna, Gabbie "Adultolescence", New York City: Keywords Press, 2017
-Jeanty, Pierre A. "Her", Lehigh Acres: Jeanius Publishing, 2017
-Lovelace, Amanda "To Make Monsters Out of Girls", Kansas City: Andrews McMeel Publishing, 2018
-Thomas, Iain S. "I Wrote This for You", Canada: Central Avenue Publishing, 2016
About the Writer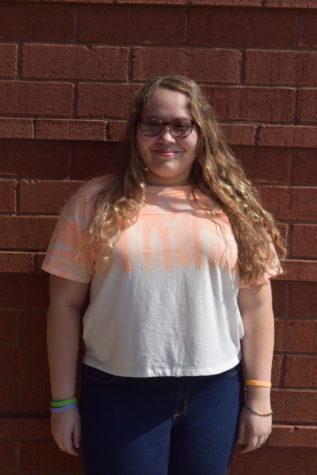 Mia Isom, News Reporter
I was born in Murfreesboro, Tennessee. I love photography, reading, and writing whenever I have the time. I like trying new things because I feel like...