Senior Abby Bland: a Bowling Champ
The Blaze bowling team ended their season Jan. 16 as the runner ups in the sectional tournament. Three individual bowlers made it to the State tournament, where Senior Abby Bland placed higher than her Blackman counter parts, placing 7th in the individual tournament. 
"I love seeing the growth and development of the kids in their abilities and how they handle themselves throughout the season," said Coach Sean Picklesimer. 
Bowling isn't just a hobby or a sport for Bland, it is one of the biggest parts of her life. While spending many hours improving her skill, she made many lifelong friends along the way.  
"Being on the bowling team is a lot of fun because the team is fun to be around, and we are always laughing and cheering each other on. I have made some of my best friends from this sport, so it has a special place in my heart," stated Bland. 
Bland has been bowling since the fifth grade and decided to get better just for her own fun. Soon, she realized how much she loved the sport and decided to compete. Through the sport, she has not only met great people, but also learned some important things about the game and life. 
"This season, I learned to never take anything for granted because I didn't know how sad it would be leaving a sport I have played for 7 years. I also learned that if you keep working hard and keep a positive attitude, you can easily reach the goal you are shooting for," said Bland   
Although this is her last season with Blackman, she had a brand-new coach, which comes with its own challenges. Despite this Bland and the bowling team had a competitive season. They beat the Smyrna Bulldogs for the first time in years, made it all the way to sectionals and then sent three people to state. Bland is not only a tough competitor but also a good teammate. 
"She taught me that no matter how deep in a rabbit hole you are; as long as you smile, everything will be okay. I think Abby has a quality that can just make anyone in the room feel comfortable," stated Sophomore Dylan Hubley.  
 Bland will not continue bowling as she leaves high school and enters college. Instead, she plans on attending Middle Tennessee State University to study Pre-med. 
About the Writer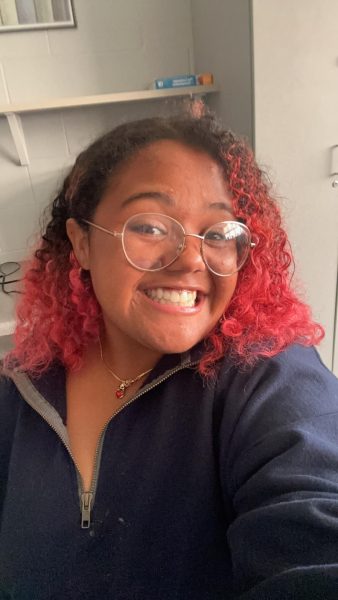 Marciana J. Johnson, Sports Editor

Marciana Johnson is a senior at Blackman and this is her  third year in journalism. She is Sports editor and also the Senior Class President. She...