Celebrating seniors: Senior week 2022
With only a few weeks left until the Class of '22 graduates, BHS is planning some final memories to celebrate them.
The week of April 25 to 29 is Senior Week. Each day will have spirit themes and events.
Monday, April 25, is "Anything but a Backpack Day." A senior breakfast on the lawn will kick off the week, and the '22 picture will be taken on the football field.
Tuesday, April 26, is Kindergarten Day. A "prom promise" presentation will take place in the auditorium for all seniors.
Wednesday, April 27, will be Senior Citizen Day. A photo booth contest will be held during lunch.
Thursday, April 28, is College/Career Day, so pull out those college shirts!
Finally, Friday, April 29, is No Dress Code Day.  The Teacher Variety Show will be from 8:30-10 am in the auditorium, and a field day will be held at the Inferno until the 11:45 am dismissal for prom preparation.
Blackman Senior Prom is Friday, April 29, at 7 pm in the MTSU Student Union Ball Room. The theme is Enchanted Evening. Be sure to buy your tickets in advance!
Tickets are currently on sale in the bank during lunch. They are $45 per ticket up until Monday, April 25. On April 26 and 27, tickets will be $65 each.
TICKETS WILL NOT BE SOLD ON April 28 or 29. You will not be allowed to attend if you haven't purchased your tickets by April 27.
To purchase tickets, you need your school ID and your date's name. Only seniors may purchase tickets.
Students with more than ten unexcused absences may only purchase tickets with administrative approval.
All attendees must have a picture ID to enter prom.
About the Contributor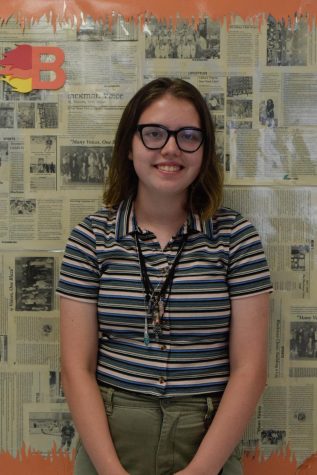 Mo Stephens, Business Manager
I'm a senior, and my pronouns are she/they. My hobbies include Color Guard, reading, writing, and crochet. My favorite kinds of movies are horror movies,...