Blackman boys' basketball wins third straight district tournament
The Blackman boys' basketball team won their third straight district tournament championship on Tuesday night at Riverdale beating Siegel by a score of 40-38. The Blaze certainly weren't underdogs coming into the tournament as they finished the regular season finishing first in the district. However, many did not have very high expectations for Blackman coming into the season.  
"We've really improved a lot throughout the season considering that for the first time in a long time we didn't have a goal of winning our district in the regular season so that was a big accomplishment for this team. Winning the district tournament was huge considering what it means for seeding in the region tournament so we're really proud of this team and what they accomplished," said head coach Barry Wortman. 
As for the game itself, it certainly lived up to expectations. In the two meetings between the teams in the regular season the road team won each meeting in two very close games. Both teams were two of the top in the district all season.  
It was a back-and-forth game all night as both teams traded baskets. Blackman held a 9-6 lead at the end of the first quarter, but Siegel led 16-15 at halftime. The second half continued to be a battle as it was 29-28 Blackman at the end of the third quarter.  
The fourth quarter was extremely intense. Siegel hit a three to give them a 38-36 lead with less than two minutes to go in the game. Then, Blackman came right down the court and answered, tying the game at 38 with less than a minute to go.  
Siegel then committed a costly turnover throwing the ball out of bounds which gave the Blaze the ball with a chance to take the lead. They held the ball and waited for a good shot until finally Junior Isaiah Divens pulled up for a mid-range jumper to give the Blaze the 40-38 lead with five seconds to play. Siegel missed a shot from nearly half-court as time expired to win the game and the Blaze were district tournament champions once again.  
"We were able to force a turnover to get to hold for the last shot which is easier said than done. Our team did a nice job of waiting until the ten second mark to start running the offense. We tried to run a little backdoor and Sumo Scaife did a nice job of not throwing because it wasn't there, so we hit our point guard to a nice brush screen and Isaiah Divens just jumped up and made a nice basketball play to win the game," said Wortman. 
Blackman will now shift their focus to the region tournament, which everybody around the program knows is a different animal.  
"It's going to be hard because everybody is really good and there's a lot of finality to tournament basketball. Rebounding, defending, and executing offensively in the half court is what we always tell our team is most important this time of year. We're playing connected, we're tough, and we'll play for each other, so it'll come down to making winning plays," said Wortman.  
The Blaze's star point guard echoed those sentiments.  
"We just need to master the things we do well and take it one game at a time because every game from here is only going to get tougher and tougher," said Divens.  
Blackman gets their region tournament started at home against Smyrna on Saturday at 7 pm. If they win that game the semifinals (on Tuesday night at 6pm) and the finals (on Thursday Night at 7pm) will both be held at Stewarts Creek High School.  
About the Writer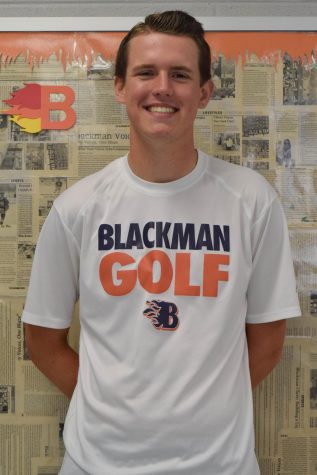 Christian Skelton, Sports Editor
I'm a senior. My hobbies are watching sports and playing video games. I watch Star Wars and Marvel TV shows and movies pretty much all the time. I also...