Coming to a theater near you: Movies and TV shows releasing in February/March
Fewer blockbuster movies are released after December because of Oscar nomination cutoffs. However, many new movies and TV shows are coming out this February. 
For the week of February 11: 
Death on the Nile (PG-13) – While on vacation on the Nile, Hercule Poirot must investigate the murder of a young heiress. (Directed by Kenneth Branagh, starring Tom Bateman, Annette Bening, Kenneth Branagh, and Russell Brand) 
Blacklight (PG-13) – Travis Block is a government operative coming to terms with his shadow past. When he discovers a plot targeting U.S. citizens, Block finds himself in the crosshairs of the FBI director he once helped protect. (Directed by Mark Williams, starring Liam Neeson, Aidan Quinn, Taylor John Smith, and Emmy Raver-Lampman) 
Marry Me (PG-13) – Music superstars Kat Valdez and Bastian are getting married before a global audience of fans. But when Kat learns, seconds before her vows, that Bastian has been unfaithful, she decides to marry Charlie, a stranger in the crowd, instead. (Directed by Kat Coiro, starring Jennifer Lopez, Utkarsh Ambudkar, Owen Wilson, and John Bradley) 
For the week of February 18: 
Uncharted (PG-13) – Street-smart Nathan Drake is recruited by seasoned treasure hunter Victor "Sully" Sullivan to recover a fortune amassed by Ferdinand Magellan and lost 500 years ago by the House of Moncada. (Directed by Ruben Fleischer, starring Tom Holland, Sophia Ali, Mark Wahlberg, and Tati Gabrielle) 
Dog (PG-13) – Two former Army Rangers are paired against their will on the road trip of a lifetime. Briggs and Lulu race down the Pacific Coast to a fellow soldier's funeral on time. (Directed by Reid Carolin and Channing Tatum, starring Channing Tatum, Q'orianka Kilcher, Aqueela Zoll, and Kevin Nash) 
The Outfit (R) – An expert tailor must outwit a dangerous group of mobsters in order to survive a fateful night. (Directed by Graham Moore, starring Mark Rylance, Zoey Deutch, Dylan O'Brien, and Johnny Flynn) 
For the beginning of March:
The Batman (PG-13) – In his second year of fighting crime, Batman uncovers corruption in Gotham City that connects to his own family while facing a serial killer known as The Riddler. (Directed by Matt Reeves, starring Barry Keoghan, Robert Pattinson, Zoë Kravitz, and Paul Dano)
February TV shows: 
Pam & Tommy (Hulu, TV-MA) – This drama follows the story of Pamela Anderson and Tommy Lee's relationship, going back to their whirlwind romance that started with them marrying after only knowing each other for 96 hours in 1995. (Starring Lily James, Sebastian Stan, Taylor Schilling, and Nick Offerman) 
Raised by Wolves (HBO Max, TV-MA) – Androids are tasked with raising human children on a mysterious planet. (Starring Travis Fimmel, Amanda Collin, Abubakar Salim, and Winta McGrath) 
Bel-Air (Peacock, Unrated) – A dramatic retelling of the story of the Fresh Prince of Bel-Air (Starring Scottie Thompson, Karrueche Tran, April Parkes Jones, and Charlie Hall) 
Space Force (Netflix – TV-MA) – A satiric comedy about the people tasked with creating a sixth branch of the armed services: The Space Force. (Starring Steve Carell, John Malkovich, Ben Schwartz, and Diana Silvers) 
With so many movies going back to only releasing in theaters, if you're unable to make it to the theaters, you can always stay home and watch the many shows on the tens of streaming services there are.
About the Contributor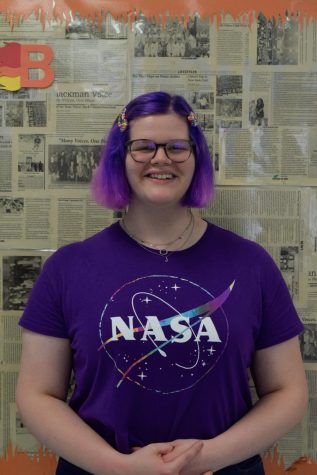 Jenene Grover, Editor in Chief
I'm a senior, and my pronouns are she/they. My hobbies are gaming, listening to music, and hopefully reading (I'm getting back into it again). My favorite...