Blackman High School honors Sports Hall of Fame class of 2021
On Saturday, Blackman High School hosted their 2021 Athletic Hall of Fame induction ceremony. This was the second class to be inducted into the hall of fame. The class was headlined by Crystal Dangerfield, Megan (French) White, Alana (Hicks) Grey, Adam Smith, and Zander Wiel. 
Crystal Dangerfield (Girls' Basketball) 
Graduating in 2016, Dangerfield won the Class AAA Miss Basketball award twice (2015, 2016). She also led Blackman to back-to-back state championships (2014, 2015). She won the Gatorade National Player of The Year three consecutive seasons. After her high school career, she was a star at UConn (Connecticut). In her WBNA rookie season playing for the Minnesota Lynx, she won the Rookie of The Year award for 2020.  
"I'm truly honored, and this is special because of what this place means to me. I still get chills thinking about selling out gyms, winning two state championships and a national championship," said Dangerfield. 
Megan (French) White (Girls' Golf) 
Graduating in 2001, White was one of the top golfers in the state. She made the state tournament in all her seasons at Blackman and she won the region her senior year. She was the first athlete from the school to earn a scholarship, as she played college golf at Tennessee Tech. 
"Since I was in the second graduating class at Blackman all of our athletic programs were in their infancy, and I never could've imagined having a hall of fame," said White.  
Alana (Hicks) Grey (Girls' Basketball and Softball) 
Graduating in 2004, Grey was a four-year starter in basketball and softball. In softball she hit .600 on her career; in basketball she was named all-district three consecutive seasons. She went on to play softball at Jacksonville State.  
 "Our mission as a class was to build the foundation for Blackman athletics and to help start a winning tradition. The best part about being the class to help build that foundation was that we were always working to push the envelope and push ourselves more every day," said Grey.  
Adam Smith (Football) 
Graduating in 2008, Smith is one of the best offensive linemen to ever suit up for the Blaze. He was named all-region his junior and senior seasons then went onto play college football at Western Kentucky. He also had a stint in the NFL with the Tampa Bay Buccaneers and in the Arena Football League with the Philadelphia Soul. 
"You forget, in life moving forward, until you come back here how much teachers, coaches, players, and the administration mean to you," said Smith. 
Zander Wiel (Baseball) 
Graduating in 2011, Wiel was one of the best baseball players in Blackman history. He helped lead Blackman to their first state tournament appearance in 2009, and he was named all-state in 2011. He became a star at Vanderbilt, helping them win their first National Championship in 2014. He was drafted by the Minnesota Twins in 2015 and is currently a first baseman/outfielder in the organization. 
 "It's really an honor to be inducted into the hall of fame here. This hall of fame really goes to show what this school's been able to do athletically," said Wiel.  
About the Writer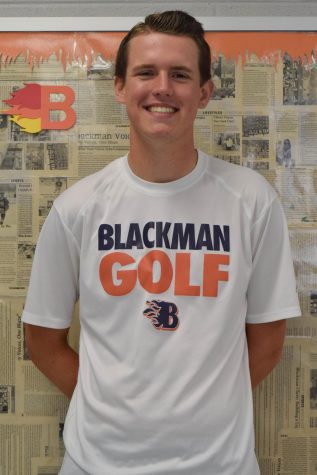 Christian Skelton, Sports Editor
I'm a senior, and my pronouns are he/him. My hobbies are watching sports and playing video games. I watch Star Wars and Marvel TV shows and movies pretty...