The 2021-22 school year has introduced new COVID-19 policies that are ever-changing
The beginning of the 2021-22 school year has been remarkably different from every other year. Everything started to get back to the "new normal," and then a new wave of COVID-19 hit, especially in Tennessee.
According to the New York Times, on September 20, 2021, Tennessee had 12,084 new cases. In just Rutherford County alone, there were 2,135 new cases on September 7, 2021. From Sept. 7-20 (two weeks), there were 5,962 total cases in Rutherford County.
Other than in this past month, the highest number of COVID cases in Rutherford County, 632, was recorded on January 2, 2021. According to the United States Census Bureau in 2019, Rutherford County has a population of 332,285.
Because of the recent dramatic increase in COVID cases, many policies were, approved on August 23, 2021, to protect students and faculty in Rutherford County Schools. The policies vary depending on symptoms, mask-wearing, close contacts, etc.
COVID symptoms include fever or chills, cough, shortness of breath or difficulty breathing, fatigue, muscle or body aches, headache, new loss of taste or smell, sore throat, congestion or runny nose, nausea or vomiting, and diarrhea.
If a student had COVID symptoms and had to quarantine, in order to return to school, they can:
"1. Observe a ten-day isolation period from the onset of symptoms (for example, Sally developed symptoms on Friday 8/27. Friday 8/27 would be considered Day 0. She would go home and isolate for ten days after that, returning on Day 1 as long as she had been fever-free without medications for 24 hours and all symptoms improving. Day 11 would return her ON 9/7). The ten-day isolation period would be the same as if the symptomatic individual tested positive.
"2. Get a negative COVID test (must have proof of the negative), be fever-free without medications for 24 hours, and all symptoms improving," stated Sloan Lowe, Blackman High School's nurse.
Throughout the first quarter, many students ended up quarantined. Employees of companies tend to have to abide by these policies, too. If an employee has had a close contact or comes down with COVID symptoms, they can only return to work with a negative COVID-19 test, depending on the employer.
"Contacts of a positive case are required to quarantine (Day 0 being the last date contact with the positive case) and can return on Day 7 if they remain symptom-free the entire quarantine period," said Lowe.
Students with family members with COVID ended up quarantined because of their close contact and proximity. Many students miss weeks of school due to this quarantining policy.
"The first day I was out of school because of quarantine was August 30th, but the quarantine only counted from when my brother's symptoms started," stated Ryan Dickey, senior.
Much of the student body has been vaccinated, but if you are vaccinated and have close contact with a positive COVID case, you must remain home and quarantined even longer – 17 days.
"Vaccination status does not apply to household contacts. As of right now, you CANNOT 'test out' of quarantine early, so having a negative test does not allow you to return any sooner than Day 7 (or Day 17 if you are a household contact)," said Lowe.
During their quarantine, a student may struggle with keeping up with their schoolwork, especially if the quarantine is several weeks long. Without being allowed to have distance learning this year, students and teachers have to communicate in slightly different ways.
"I mostly talked to my teachers through email, but I was on a couple of Zoom calls during their office hours," stated Dickey.
Health officials are urging everyone to take precautions, Lowe being no exception.
"In the nicest way possible, please, please, please stay home if you are sick. This would cut down on exposure and contact tracing by leaps and bounds," said Lowe.
The Rutherford County School Board decided to hold meetings to follow surrounding counties' precedents of mask mandates.
On September 9, Rutherford County's School Board voted 5-2 to approve a mask mandate for 30 days in all Rutherford County Schools. Administration is required to wear masks, and students are required unless they or a parent fills out an exemption form.
"Masks only help if they are worn and worn correctly. Students who wear their masks correctly are more protected than those who wear them incorrectly or opt-out," stated Michele Giacobbi, US Government teacher.
Masks have been used since the beginning of the pandemic to protect yourself and others from the virus. Social distancing is also crucial for protection.
"I am back behind my desk and staying away from all students. I have a medically fragile spouse, and I cannot afford to get infected and possibly infect him," said Giacobbi.
Even during this pandemic, school spirit has not waned, especially with our new faculty members – like our nurse.
"I love the school and am thankful every day I was placed at BHS. New adventures are good, and I am hopeful to have found a home for the long term. It helps that everyone has been so welcoming and kind to me," stated Lowe.
About the Writer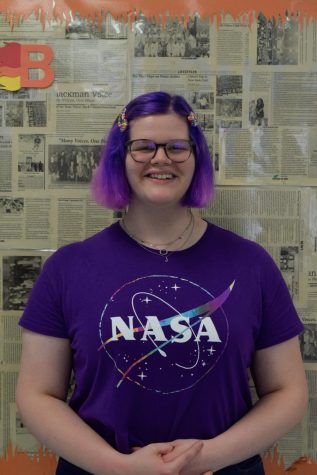 Jenene Grover, Editor in Chief
I'm a senior, and my pronouns are she/they. My hobbies are gaming, listening to music, and hopefully reading (I'm getting back into it again). My favorite...