Senior Updates for May 2021
After enduring a not-so-normal year, the class of 2021 is preparing for their final school days as the school year comes to an end.  
This week, May 3 through the 7, is senior week, with dress–up days and activities happening every day. The schedule is as follows:  
Monday, May 3, was pajama day, and there was an ice cream social in the courtyard during DLRTI. 
Tuesday, May 4, was "senior skip day," and all students worked from home.  
Wednesday, May 5, is Senior Citizen Day, along with senior awards. Those who win an award will report to the library during DLRTI, while all others watch via Zoom.  
Thursday, May 6, is Kindergarten dress–up day, and there is a faculty talent show in the gym during DLRTI. 
Friday, May 7, is "Go Blaze day", and senior breakfast will also take place in the cafeteria during impact.  
AP exams are also taking place May 3 through the 13, with some tests in the morning (8 AM) and some in the afternoon (12 AM). You can get the schedule from your AP teacher.  
Tuesday, May 11, is the last day of school for seniors, as they will work from home the rest of the week.  
Friday, May 14, is graduation practice for seniors at BHS, 9 AM to 12 PM. After graduation practice will also be distribution of yearbooks and the Voice's Senior Salute.  
Finally, the class of 2021 graduation will be Monday, May 17, at 7 PM at the Inferno.  
About the Writer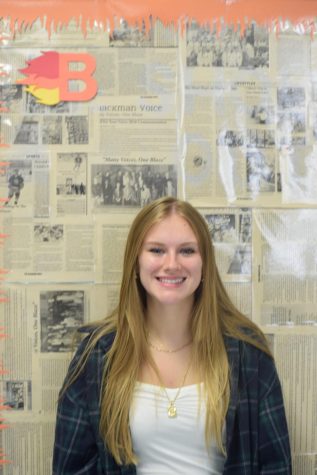 Brenlee Goins, News Editor
I'm a senior, and my pronouns are she/her. My hobbies include calligraphy, writing, and art. My favorite movie is Legally Blonde, and I enjoy listening...