A new era: Blackman hires Chandler Tygard as new head football coach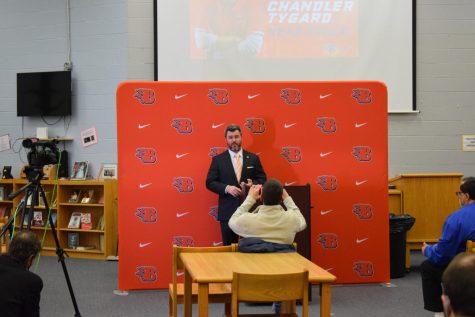 A new era has begun for the Blackman High School football program. On Wednesday, the Blaze welcomed Chandler Tygard as their new head coach. Tygard resigned as the head coach of North Jackson High School (Ala.) to takeover the position at Blackman.  
On January 12th, the search began for Blackman to find a new head coach as now former head coach Kit Hartsfield resigned to become the new head coach at Mount Pleasant High School. In three years (2018-2020) Hartsfield posted a 22-13 total record. During Hartsfield's tenure Blackman also had a quarterfinal appearance in 2019. 
Tygard is familiar with the Middle Tennessee area having coached as an assistant at Ravenwood High School, and he also played baseball with former Blaze star David Price. 
"When Blackman calls you on the phone, you answer the call. I was so thrilled to get the phone call and to come up here and see this" said Tygard.  
Tygard brings an up tempo and aggressive offensive philosophy to Blackman, which could see the Blaze scoring lots of points this fall.  
"It's more about going fast and affecting the other team," said Tygard. "We'll run similar plays to other people, but we'll just go faster. It will have a different flare to it." 
Tygard will have lots to do in the coming weeks to get ready for spring practice and the upcoming season. The first thing on the agenda will be meeting with every player and every coach and then establishing a plan of attack for success.  
"This is not the first time I've had a transition like this it's a long process but I'm super excited to get it going." said Tygard.