STEM: Creating Woodwork for the Teachers
Our STEM 3 classes have been working diligently to make personalized wood gifts for teachers here at Blackman. They can make anything from stools to doorstops to podiums and the money raised benefits them in a big way. 
 In one of Mr. Hardison's classes, a group made aa giant interactive periodic table. Kade Johnson and Paris Parker both were in this group and say that it took "quite a while."  
And in another group, Samantha Mayfield and her group have fixed a table and made coat hangers and are currently working on another project.  
Samantha Mayfield, junior, stated, "It's a lot of fun because they just kind of say 'Hey, I need this' and then we get to have creative freedom with the project… coming in I didn't think it was going to be like that."  
Although the STEM 3 students get to be very hands-on this year it did not start like that. This is how Parker broke down his three years of this course, "STEM 3 is when you make the projects for the teachers but STEM 2 is the ideas stage and then STEM 1 is all the fundamentals."  
Johnson all touched on this, "He taught us the basic steps at first. The second year he would give us a project and it was more of like he walked us through it- like a bicycle with training wheels. And now this year we get to create and idea and freely build it because we have the experience and knowledge. "  
When asked how they pick their groups Parker said, "So basically you get a group and pick your roles based on the strength and weaknesses of the people in your groups and that's how we base our decisions of who does what." 
But, even in STEM 3, they still have their business days. The classes are required to dress in business attire and Hardison interviews them as if it were actual interviews.  
This is the first year that Hardison is allowing them to conduct their own projects for teachers. The projects made so far consist of anything from door stops to coat hangers to a huge periodic table. The groups for the projects range from 2-4 people per group whose strengths and weaknesses bounce equally off one another. They make them for the teachers, and they're evaluated from the staff who they're made for. 
The money raised through the STEM 3 creations goes towards their OSHA 10-hour industry recognized certification which shows future employers that "they have exhibited a high level of competency in safety and safe working conditions."  
This certification would help our Blackman STEM students stand out in the crowd against other candidates. 
STEM can seem a very daunting subject with lots of moving parts, but the students start off small, learning the stepping stone, but soon enough they're set free to make products of the creative process. The STEM students interviewed had plenty of advice for upcoming STEM student.  
A common thing the three students said was how important communication was.  
"Communication and time management are the key to pretty much everything you do. If you don't communicate, you'll get frustrated with your group and then you'll not want to work with them… Communication and time management and the main thing you'll have to do in STEM." Johnson stated. 
Johnson said, "My advice is don't think you know everything. You'll learn something new from others around you." 
"Another thing is don't rush and do the project without properly designing. You could get started and then realize you didn't think this through." Parker pointed out.  
Samantha's word of advice the future STEM generations was, "Don't panic about the work- it's not as bad as you think. Mr. Hardison is always open to new and ideas."  
She also gave some perspective, "It's not all about boys. Girls can do amazing things. The entire three years I've been in STEM, I've had four girls in each class, only four. Don't shy away! You don't have to be the tomboy of the group to be in STEM."  
Our STEM wood shop is open, and the STEM 3 students are ready and willing to create one of a kind pieces for our Blackman teachers as well as support the curriculum of letting their minds take charge to create projects to be proud of. Make sure to get something made for you before the year is up! 
About the Writer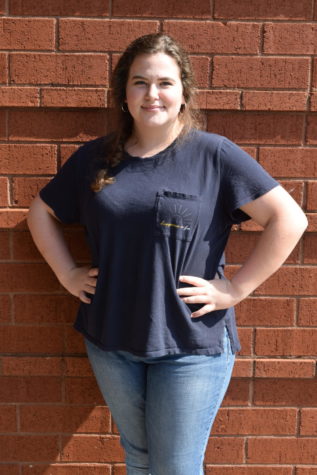 Kayla Donaldson, News Reporter

I've had experience with at least 5 different sports but none of them stuck because now I put a lot of time and energy into acting and preforming. Everything...