15 Concerts Coming to Nashville/Murfreesboro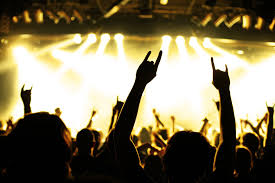 Hang on for a minute...we're trying to find some more stories you might like.
The spring months are known as concert season, the precursor to festival season, also known as summer.  
Concerts are the best way to experience the music you love visually and physically. To aid you in your choice of what artists to go see, here is a list of 15 concerts coming to the Nashville/Murfreesboro area this spring. 
Who: Twin Peaks  
When: March 30, 2018 
Where: The Basement East 
Who: Lorde 
When: April 15, 2018 
Where: Bridgestone Arena 
Who: X Ambassadors 
When: April 15, 2018 
Where: Ryman Auditorium 
Who: 5 Seconds of Summer 
When: April 18, 2018 
Where: Cannery Ballroom 
Who: Jake Miller 
When: April 19, 2018 
Where: Rocktown White Building 
Who: Red Hot Chili Peppers 
When: April 20, 2018 
Where: Mercy Lounge 
Who: Sir-Mix-a-Lot 
When: April 26, 2018 
Where: The Cowan Nashville 
Who: All Time Low 
When: April 27, 2018 
Where: The Cowan Nashville 
Who: Cashmere Cat 
When: April 28, 2018 
Where: Mercy Lounge 
Who: Haim 
When: April 29, 2018 
Where: Nashville War Memorial 
Who: Post Malone x 21 Savage 
When: May 8, 2018 
Where: Nashville Municipal Auditorium 
Who: Justin Timberlake 
When: May 9, 2018 
Where: Bridgestone Arena 
Who: Vance Joy 
When: May 10, 2018 
Where: Ascend Ampitheater 
Who: Brian McKnight 
When: May 13, 2018 
Where: Schermerhorn Symphony Center 
Who: Portugal The Man 
When: May 19, 2018 
Where: Ascend Amphitheater