And The Award Goes To…
Some of The Lady Blaze Soccer Seniors were honored at the District 7- AAA Awards.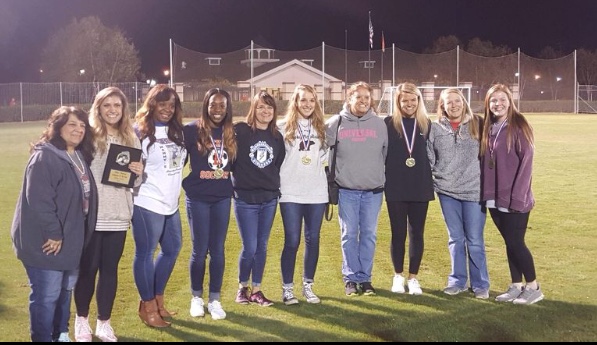 At the District 7- AAA girl soccer finals, five of our very own seniors, Carly Bowen, Elise Chessor, Mallory Conlin, Alaysha Russell, and Kenzi Vetter, were recognized for a dignified season they played this year.
Russell and Vetter received the 1st Team All District award.
Vetter speaks about receiving the award for the third time, "I always feel a sense of accomplishment when I receive an award. Since this is my third year in a row getting this award, I feel like I keep having successful seasons. This season more than any other taught me patience and perseverance."
Russell adds, she'll "definitely [miss the] friendships, familiar faces, and Coach Vice of course!" Russell will continue her journey at Alabama A&M University.
The 2nd Team All District was given to Bowen and Conlin.
Conlin shares, she learned "how to be a better leader even when it was hard times. The feeling of playing under the light" will be something she'll miss about being a Lady Blaze and, "the intensity the games bring every time" they played together.
Lastly, Elise Chessor was awarded Goalkeeper of the Year.
"I felt really honored because I'd never gotten an award before in all my high school career, so it was really cool to get that just like being noticed for actually working," Chessor said. "I'll definitely miss the friendships that were made, the practices and the experiences and victories that we had, I'm gonna miss that feeling because I'm not going to play in college."
Overall, these awards are major accomplishments and all these ladies should be honored to be rewarded the mentioned titles: 1st Team All District, 2nd Team All District, and Goalie of the Year. Blackman is very proud of these exceptional ladies and can't wait to see what the future holds for them, on and off the field.