Flash Back on Reports from Women's March Madness
On Sunday, April 3 the LSU (Louisianan State University) Tiger's girls basketball team won the national championship against the Iowa Hawkeyes playing a close game that ended with a score of 102-85. 
"LSU's team was crazy and looked like they were clicking on all cylinders and couldn't be stopped. It was one of the best Women's basketball games I've seen in a long time," stated Allen Green, junior. 
This game allowed for many records to be broken. This is LSU's first time ever winning the national championship since the team was formed in 1975.  LSU coach Kim Mulkey is the first DI women's basketball coach to win championships at two different programs; Mulkey did it in year two at LSU.   
Iowa set the record for most three pointers scored during a title game. This is also the first time that a girl championship game beyond the elite 8 has had a score in the triple digits.   
"I'm just — I'm super happy for the program first, but this is bigger than me. I mean, I had so many goals coming into LSU, but I didn't think I was going to win a National Championship within my first year at LSU. I'm just happy for this team. Coach Mulkey, I appreciate you. I can't thank you enough for this opportunity to play under you and get better. I'm just happy right now," said Angel Reese in a post-game interview. 
Sophomore Angel Reese is the star when it comes to the LSU Tigers and is referred to as the "Bayou Barbie" due to her feminine appearance in a physically demanding sport. She is extremely passionate for the game, while also having her hair, nails and even eyelashes always done in a feminine fashion. The way she is feminine yet aggressive and is never afraid to be herself and express who she is, is an inspiration to many young girls.  
"I'm too 'hood.' I'm too 'ghetto'; I don't fit the narrative, and I'm okay with that. I'm from Baltimore where you hoop outside & talk trash. If I was a boy, y'all wouldn't be saying anything at all. Let's normalize women showing passion for the game instead of it being 'embarrassing,'" stated Reese on Twitter. 
While on the other side of the court, you have Junior Caitlyn Clark from Iowa State. Clark was a five start pick out of high school and the main reason Iowa set the three-pointer record. During the championship alone, she scored 41 points. She is a once in a generation player and is constantly compared to extortionary athletes.  
"I want my legacy to be the impact that I have on young kids and the people in the state of Iowa," Clark said. "I hope I brought them a lot of joy this season. I hope this team brought them a lot of joy. I understand we came up one win short, but I think we have a lot to be proud of and a lot to celebrate. I was just that young girl, so all you have to do is dream, and you can be in moments like this," Caitlyn Clark in an interview with CBS Sports. 
Just like Reese, Clark is not only there for herself but also for the girls that come after her. These two women are something to look out for next season. This game is very important in women's basketball history. Many records were broken, and this will help people keep their eyes on women sports.  
About the Writer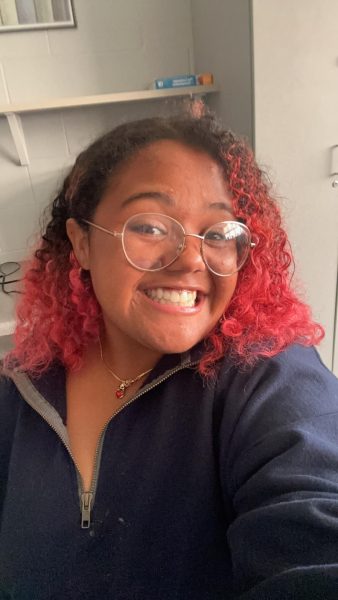 Marciana J. Johnson, Sports Editor

Marciana Johnson is a senior at Blackman and this is her  third year in journalism. She is Sports editor and also the Senior Class President. She...