A big change: From Güigüe to the United States – my personal experience
Three years ago, at just 15 years old, I had to make the decision on which my future depended. Although the future has been uncertain, and the road rocky, this is the story of my experience as an immigrant.
I come from a country rich in culture, natural resources, touristic places, and wonderful people, but with few opportunities and many unfulfilled dreams.   
I grew up in a village called Güigüe, located in Carabobo state, Venezuela. The problem with living in a village is how quickly you get used to the lifestyle where everyone knows you just by mentioning your last name.  
I spent my entire childhood surrounded by my family and friends, enjoying every moment that passed, no matter how small or insignificant the moment seemed.  
But despite the significant efforts of trying not to get carried away by the situation that Venezuela was experiencing, the social, economic, and political crisis ended up affecting my family. My country was no longer safe for us, and our future was in a state of uncertainty.  
My mother and stepfather obtained their journey abroad in 2017 while I was in Venezuela with my dad. Because of this, I spent one year without seeing them until my brother and I arrived in the United States in 2018.  
Although the challenges in my country were immense, the decision to live in the United States was not the easiest. I not only had the uncertainty of never seeing my father or my family again, but the challenges that awaited me for which I was not prepared.  
My first challenge (and the one that made my decision much more difficult than it was) was the death of my grandfather, just the day after I came to the United States. This created the fear of losing more people I love without having the opportunity to give them one last hug or be present at their last goodbye. Although it is an experience that every immigrant will experience, as painful and difficult as it may be, they must get used to living with it.  
Emotionally, this has been a roller coaster. I feel that I cannot discuss this type of situation with anyone, so I keep it inside myself, letting all those feelings of pain accumulate until they decide to explode.   
Academically, despite the many differences in education and the language barrier, my experience has been good. I try my best, I give my best, and I do my best to improve and grow as a person.  
The social part has been my most difficult challenge so far, not only because of the language and cultural differences, but also because of my insecurities when speaking English. My pronunciation is not perfect, and sometimes I forget words. 
After two years in the ESL program, I finally mastered the language, but that does not guarantee me mastering the American culture. Many traditions (like Homecoming or pep rallies) I still do not understand. As well as the topics of conversation. No matter how hard I try, sometimes it is hard to get into conversations with people who have lived here all their lives because of differences in our culture, our traditions, and of course, our life experiences.  
The language barrier also creates a lot of misinformation. When I started studying here, I had no idea what credits were, how they worked, what a pathway was, how to get into school clubs, and if I was allowed to take any honors classes. Therefore, I joined the school newspaper to break that barrier and through my writing help as many people as possible.   
Despite the triumphs, opportunities, and blessings I have received, I always carry a feeling of emptiness that does not leave my heart. A feeling of loneliness, nostalgia, and sadness comes when I least expect it and often when I least want it. 
 Leaving my home and my whole life aside has not been an easy task. It takes a lot of strength to be away from the people you love and everything you have ever known.   
Even the smallest and most insignificant memories will become tears of pain. But they are also my strength and desire to continue fighting for a better life in the most difficult moments.  
I do not know what plans God has for my future, but what I do know is that, despite my setbacks, tears, and pain, this experience has given me smiles, opportunities, and people, for which I feel tremendously grateful.
About the Writer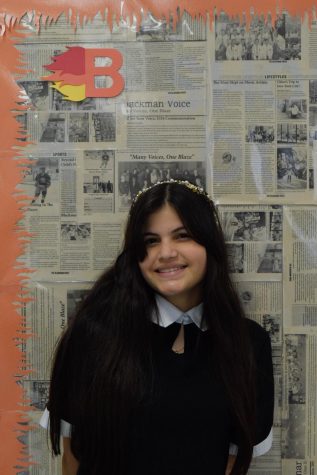 Michelle Loria, News Reporter
I'm a senior, and my pronouns are she/her. My hobbies are reading, writing about things that matter to me, singing, dancing, and acting. My favorite...