Blackman theatre comes back from COVID-19 with Seussical
Blackman theatre made a COVID comeback with Seussical: The Musical during the first week of November, and they are performing a school show on November 20.
The cast and crew were eager for their first show since Clue: On Stage.
"I was excited to get back on the stage after COVID and everything, and it was a good way to come back after the year we had," said Caleb Heath, senior.
Seussical is a story that takes place in Dr. Seuss's world with Horton, the Whos, and the Cat in the Hat.
"I show JoJo, the little boy, how thinking can improve your life and how thinking is ultimately the answer to a lot of problems. I take him and the audience on this journey through the story. I guide while popping up and helping the plot," stated Jarret Royer, junior who plays the Cat in the Hat.
During the story, JoJo's parents try to stop him from thinking, as he is the mayor's son.
"My character, [Mr. Mayor of Whoville], is supposed to stop Jo Jo from thinking because it isn't proper and doesn't reflect well on me," said Luke Gentry, the junior who plays Mr. Mayor.
The show is audience-engaging and full of humor with interaction between the cast and audience.
"My favorite part of the show is 'It's Possible' because Jarret's in roller skates, and everyone is singing like they're in the Beach Boys. It's a really entertaining song," stated Erin Seifert, senior and Mayzie LaBird.
Seussical is a children's show, but the messages apply to everyone, especially teenagers who are growing up.
"I think [Seussical] has a great message because when you grow up you lose your imagination, and it's telling you to not lose your imagination," said Royer.
For some of the cast members, Seussical is their first show. COVID changed so much about everyone's plans for participation in theatre.
"This is my first ever show. This show sparked something where I'm going to continue doing theatre next year," stated Olivia Suggs, junior and Gertrude McFuzz.
Theatre is a great way to help everyone connect with each other with the fast friendships that are created during every show.
"My favorite part about theatre is getting to be with a group of people that all have the same interests as you, and you can all bond really easily because you're with each other all the time and because you know everyone is going to support you," said Ava Skinner, senior and Mrs. Mayor.
Seussical had auditions towards the beginning of the school year, and the cast and crew have been working on it since.
"I would recommend coming to see the show because we've worked so hard on this. This is probably the hardest I've worked. It's super fun, and the message is so great," stated Mikaylah Temple, junior and JoJo.
Tickets for the school show will be for sale in the morning and during lunch on November 20 for $5.
About the Writer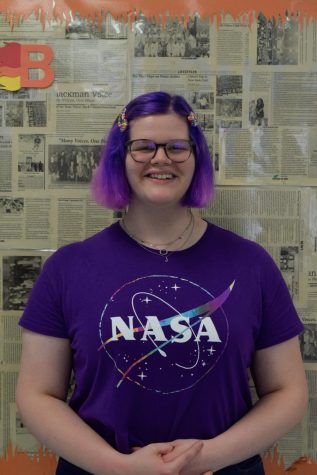 Jenene Grover, Editor in Chief
I'm a senior, and my pronouns are she/they. My hobbies are gaming, listening to music, and hopefully reading (I'm getting back into it again). My favorite...