African American athletes and their contributions to Black History
Sports have been a pastime for billions throughout history and have always found their way to involve itself in every culture worldwide. Even though sports have been around since 3000 BC, as time evolved sports obtained high popularity and massive viewership. 
 The popularity of individual sports was based on location, but game rules stayed the same for most sports. Some of these rules included restrictions on minorities playing in certain leagues and with certain people. Not all minorities followed these rules and many fiercely played and advocated destroying these restrictions.  
Many African American athletes have pushed the limits of opposing forces and overcame various adversaries to open new experiences for other African Americans and minorities.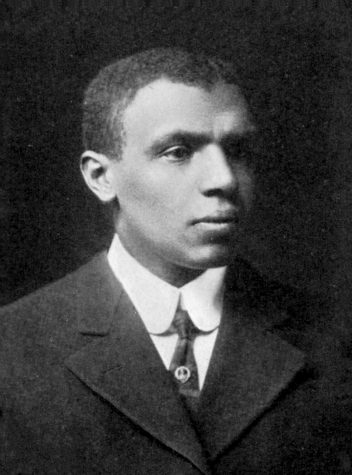 John Baxter Taylor, Jr.  Born November 3, 1882, in Washington, District of Columbia 
As he got older, his family moved to Philadelphia where he began his track and education journey. Taylor attended Central High School and was captain of their track team. Later, he attended Brown Preparatory School where his team was known for never losing a race. After schooling, Taylor continued to race and became the first African American Olympic gold medalist winner in 1908. The celebration was short-lived because of his death the following December from typhoid pneumonia.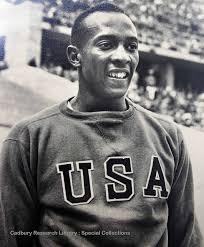 Jesse Owens: Born on September 12, 1913. in Oakville, Alabama 
Jesse Owens was the son of a sharecropper and a frail boy growing up, often too sick to help his family in the field. Later, his family moved to Cleveland, Ohio, for a better opportunity. After the cultural shock settled down for Owens, he began schooling in Cleveland. Throughout his schooling he set multitudes of records in track and field events repeatedly. Later, with his growing success, he earned a spot at the 1936 Berlin Olympics and earned four gold medals at it. After the Olympics, Owens worked jobs to give back to the community. In 1949, Owens moved to Chicago where he launched a public relations company and traveled extensively, speaking about athletic competitions and their ability to inspire race relations. Throughout the rest of his life, he spoke about race relations in sports and was honored with various awards from sports halls of fame and various presidents (President Eisenhower, President Gerald Ford, and President Jimmy Carter). Owens died on March 31, 1980, at age 66 because of lung cancer from his habit of smoking a pack of cigarettes a day.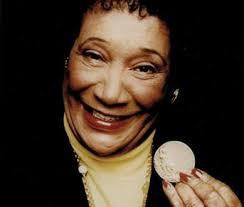 Alice Coachman: Born on November 9, 1923, in Albany, Georgia 
Alice Coachman was one of ten children and was raised in the heart of the segregated South. Throughout her early life she had to overcome the challenge of segregation and racism due to the fact she was often denied participating in training and sports. Coachman improvised her training to improve her athletic ability and used old equipment to improve her high jump. She participated in the 1948 Olympics and became the first African American women to win a gold medal in the Olympics. Post Olympics, she became the first African American to gain an endorsement deal showing the world is slowly changing to include minorities. Coachman died in Albany, GA, from natural causes in a nursing home after suffering a stroke months prior.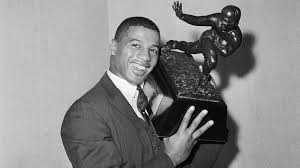 Ernie Davis: Born on December 14, 1939, in New Salem, Pennsylvania 
Ernie Davis was with biological parents for a short amount of time. Shortly after he was born, his father died; at 14 months, he was given to his maternal grandparents. Later, at the age of 12, Davis was sent back to live with his mother and stepfather where they soon learned he was an athletic prodigy. He dominated in basketball, baseball, and especially football. He earned countless awards, but no matter how athletic he was there was still a racial barrier. Davis was honored as the Cotton Bowl MVP in 1960 but was told he could only enter the facility to accept his award then he would need to promptly leave the segregated facilities. Many events such as this one occurred, but this did not stop him. Davis was the first African American man to win the Heisman Trophy, to join the prestigious Sigma Alpha Mu fraternity (a nationally recognized fraternity that was initially all-Jewish) and, in 1962, the first African American player to be picked first overall in the NFL draft. Unfortunately, Davis's life was cut short by acute monocytic leukemia and he died on May 18, 1963 never playing a professional football game before so.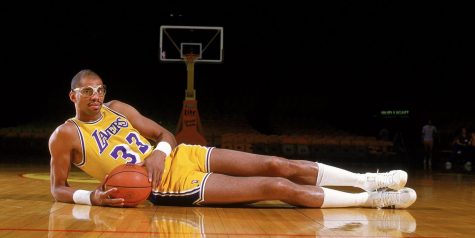 Kareem Abdul- Jabbar: Born on April 16, 1947, in New York City, New York  
 By the age of nine, he showed impressive height, staggering at 5'8" at a young age. With his impressive height of 6'8" in the eighth grade, Abdul-Jabbar began his basketball career dunking over competitors. He set various New York City school records in points and rebounds, all the while leading his team to 71 consecutive victories. Abdul-Jabbar continued playing and in 1969 he was drafted to the Milwaukee Bucks. After playing with the Milwaukee Bucks and later the Los Angeles Lakers, he began the Skyhook charity organization where their mission is to "give kids a shot that can't be blocked." The program brings educational STEM opportunities to poorer communities, giving kids more opportunities. Abdul-Jabbar is currently 63 and writes young teen books about African American children and their struggle with basketball, books that touch on the achievements of African Americans throughout history and an autobiography.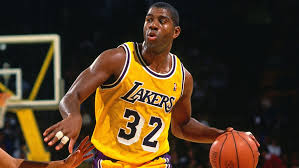 Earvin Johnson, Jr.: Born on August 14, 1959, in Lansing, Michigan 
Both of his parents worked to provide food for all the children in the house, leaving Earvin the chance to search for hobbies to entertain him, which is how he began playing basketball. During high school he gained his famous nickname "Magic Johnson" when a sportswriter witnessed him compile 36 points. Later at Michigan State University he continued to compete and push his team towards championships. Magic Johnson played for the Los Angeles Lakers where he continued to work harder with an increase in competitive strength; however, in November 1991, he retired after being diagnosed with HIV. After retirement he created the Magic Johnson Foundation whose purpose is to develop programs and support community- based organizations that address the educational, health, and social needs of ethnically diverse, urban communities. Johnson is currently 61 years old and continues to help communities through his organization.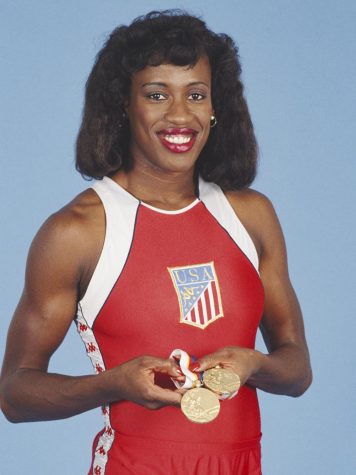 Jackie Joyner – Kersee: Born on March 3, 1962, in East St. Louis, Illinois 
 She struggled with financial hardships while growing up but proved her worth and determination with her athletic prowess. As a teen she received various awards in a variety of sports including volleyball, track and field, and basketball. Joyner-Kersee attended the University of California, Los Angeles on a full scholarship and continued to gain fame on and off court. However, at the age of 19 she began to focus on her Olympic training, specifically the heptathlon. This was only the beginning of her Olympic career where she earned three gold, one silver, and two bronze medals in the heptathlon and the long jump split between four different Olympic games. After paving the way for more African American women to follow and use their athleticism to fight through competition, she founded an organization named after herself. The foundation's mission is to "instill youth in the Greater East St. Louis area with the dream, drive, and determination necessary to succeed in academics, athletics & leadership." She is currently 58 and focuses on helping others through her foundation.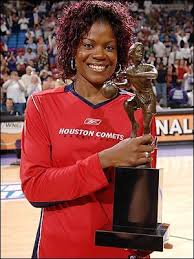 Sheryl Swoopes: Born on March 25, 1971, in Brownsville, Texas 
Growing up her brothers played basketball, and this helped her hone her skills to develop into an All-State and All-American high school player. Swoopes initially went to South Plains Junior College where she earned the title of Junior College Player of the Year, but later she transferred to the University of Texas at Austin. After college Swoopes went on to play for the USA Women's basketball team and bring home a bronze medal in the 1994 World Championship and a gold medal in the 1996 Summer Olympics. The next year she was drafted into the WNBA and began her journey to winning three 'WNBA Most Valuable Player' awards. After the WNBA, she founded the Sheryl Swoopes Foundation where their mission is "to educate and empower today's underprivileged youth to use sports as a tool to better themselves and explore other cultures." Swoopes is currently 49 and advocates for young girls to play basketball just like her.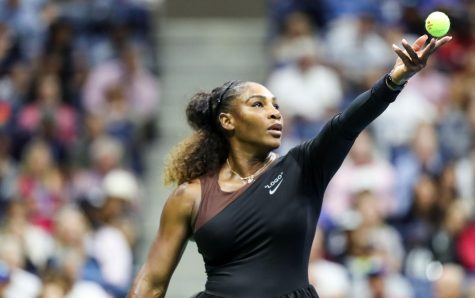 Serena Williams: Born on September 26, 1981, in Saginaw, Michigan 
At an early age, her father used what he had found in tennis books and instruction videos to teach Serena and her sister Venus how to play. With a strict training regimen, Serena and Venus were both able to excel in tennis and quickly past their competition. The pair's father sensed his daughters needed better instruction and moved their family to Florida where Serena only developed quicker. Serena has won 23 Grand Slam titles, more than any other player has in tennis. In addition, Serena and her sister Venus won 14 Grand Slam doubles titles, the second most for a pair in the open era, and three doubles gold medals at the Olympics. Serena serves as an important person to young girls who are interested in playing tennis and shows how far determination can take one. At age 39, she currently serves as a Goodwill Ambassador for UNICEF. Through this role, she works to establish schools to provide quality education for vulnerable children through UNICEF's Africa program and Schools for Asia initiative. 
About the Writer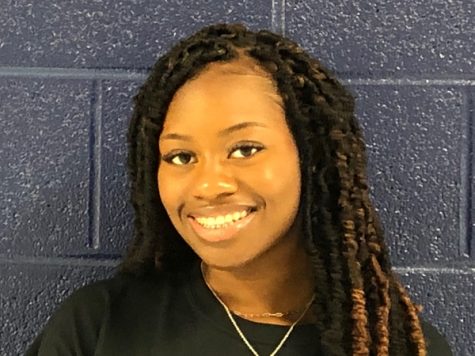 Mckenzie Wade, Sports Reporter
My name is Mckenzie Wade, and  I am a Junior. My main goal in life is to be successful and financially stable. A fun fact about me is I hate math. My...