Blackman star volleyball player Ashllyn King talks senior season
Covid-19 has affected many student athletes' lives. Many have struggled with scouting, recruiting, or just having a season at all this year. Fall sports such as football, volleyball, and girls' soccer struggled to keep their seasons while under strict restrictions. 
Senior varsity volleyball player Ashlynn King was fortunately able to sign with the University of Tennessee during this chaotic pandemic. Even with all the negativity from the pandemic, King was able to find moments of happiness.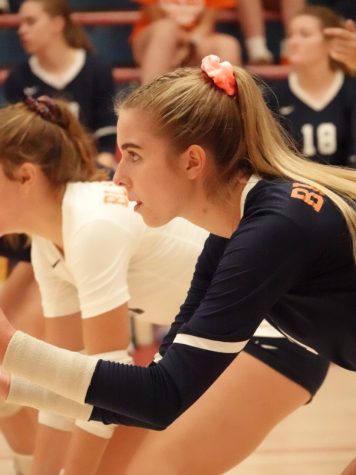 "My favorite thing about this season was having this last final season to play with my best friends and make memories and enjoy the game we all love and are passionate about it. Blackman has lots of opportunities given to students to get involved. I love being involved as much as possible and I think that doing so is what made my time at Blackman so enjoyable. It's so easy to get involved in things and there are options for everyone," stated King. 
There were some regretful and remorseful moments for every sport, each worrying about their own respected problems. But even with regret, all one can do is take the step forward and see what's next in life after this chapter. 
"One thing I regret is sometimes taking for granted some of the games and practices we were given instead of fully appreciating the opportunity we had. I am so excited for my next chapter and what's in store for me. I am looking forward to being surrounded 24/7 by other young ladies who share the same passion and grit for the game as I do and to be pushed continuously," stated King. 
While all teams have numerous ways of preparing for competition, each one can connect their success and hard work to teamwork. Whether it is the future, past, or present, teamwork is important for every athlete in their respected areas to truly be united. 
"The future of Blackman volleyball will continue to be a strong program. We have great leaders scattered around all the classes and talent too, so there is no worry about our program's success," stated King. 
King left some advice for future Blackman Volleyball players as she prepares to leave high school to pursue her own future in volleyball. 
"I would say to really fall into your teammates and trust them and make a bond because you cannot play the game without teammates. Having some you trust and bond with outside the court will make games and practices so much better and will bump up the competition immensely," stated King. 
Blackman has been lucky to have such a talented player representing of our school these past 4 years, and we wish King the best of luck in her next chapter of her life at UTK.