Free meals offered at BHS
Beginning September 2, 2020, all students in the Rutherford County school district will receive free standard meals. According to James Evans, Communications & Community Relations Director for Rutherford County Schools, students will not have to pay for a standard breakfast or lunch.
The United States Department of Agriculture (USDA) established a nationwide waiver, allowing students to pick up food at any Rutherford County meal site. Therefore, this arrangement will remain in effect until the USDA ends the program.
This waiver could be very helpful, especially for those who already struggle financially. Although programs such as free and reduced lunches were already in place, allowing all students to receive free meals just gives students one less thing to worry about.
According to the USDA website, they will be extending flexibilities for free meals through as late as December 31, 2020. This means that programs similar to the summer lunch program they offered will continue to be proposed throughout the fall. As the country is coming out of the global coronavirus pandemic, this program is committed to the funding of free meals.
"As our nation reopens and people return to work, it remains critical our children continue to receive safe, healthy, and nutritious food. During the COVID-19 pandemic, USDA has provided an unprecedented amount of flexibilities to help schools feed kids through the school meal programs, and today, we are also extending summer meal program flexibilities for as long as we can, legally and financially," said U.S. Secretary of Agriculture Sonny Perdue as stated in the USDA website.
The USDA has put many waivers in place as to ensure food for students nationwide. These waivers include allowing meals to be served in all areas at no cost, permitting meals to be served outside typical times and/or group settings, abandoning meal pattern requirements as necessary, and allowing guardians to pick up meals for their children.
This policy will stay operative until the end of 2020 or when funding runs out.
Although these meal plans may be helpful and grant equal opportunity for all students, there are a few restrictions.
A la carte items are not included in the free meal program, as they are not included as "meals" within the cafeteria. Any student 18 or over is also not included in the program, unless they are enrolled in special education.
School lunch is critical to students, as it powers their brains for learning and is crucial to health and well-being. Free meal programs, such as this one, have even been linked to higher test scores, as reported by www.givingcompass.org.
Amidst the chaos that has surrounded the COVID-19 pandemic, many complicated procedures are in place due to the unconventional running of school systems. Giving all students access to free meals is one less complicated procedure in the lunchroom. It is also a great convenience for students to know that they will constantly have access to a meal, regardless of their home life or complicated situations.
To find more information surrounding the free meal plan, you can visit https://www.rcschools.net/apps/pages/index.jsp?uREC_ID=525829&type=d&pREC_ID=1041045 or https://www.rcschools.net/apps/news/article/1287348
About the Writer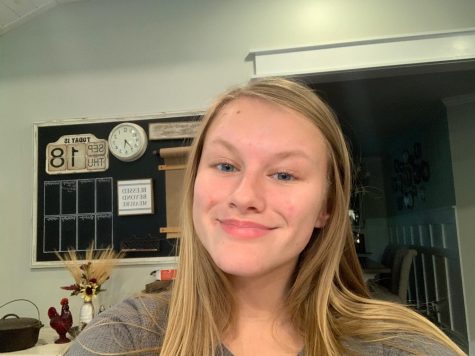 Brenlee Goins, Reporter
My name is Brenlee Goins, and I'm a Junior. My main goal in life is to be successful, and I would really like to move to a big city and become a lawyer....