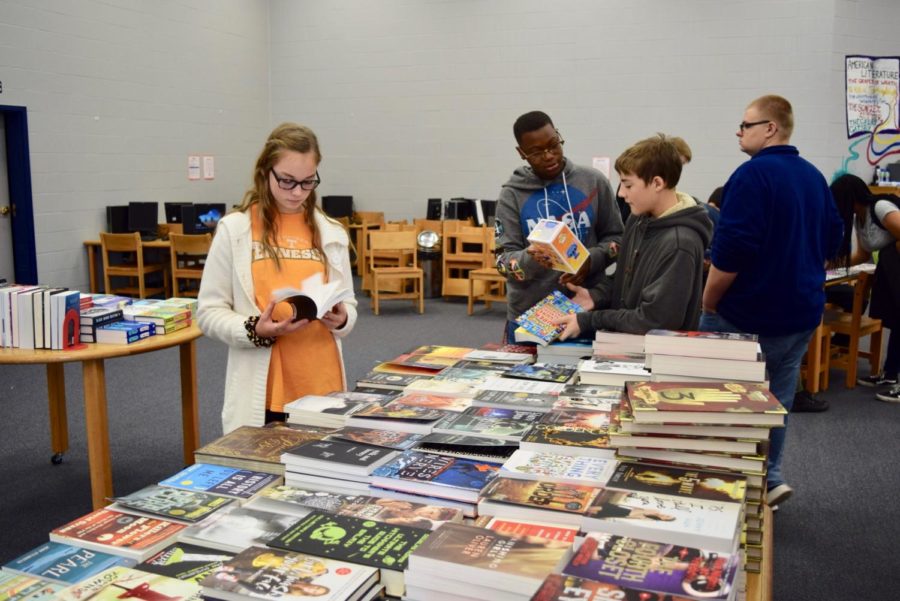 Top 10 Checked Out Books in the Blaze Library
January 11, 2019
1.) Ready Player One by Ernest Cline- This dystopian book is set in the year 2045, when virtual reality is taking over the whole world. Wade, or as the virtual world knows him Parzival, only seems to have friends in the virtual world. Find out more about Wade and his friends by checking out this book in the Blaze Library. 
2.) The Serpent King by Jeff Zentner- 3 rag tag kids from a school in rural Tennessee don't seem to know where they fit in in the world of their school. One of these kids, Dill, finds out that his name is cursed because of his grandfather. Jeff Zenter, the authoer of this book, was actually one of the Speaker Series people from A Conversation With. Find out more about Dill and his friends in this book by checking it out in the Blaze Library. 
3.) Dorothy Must Die by Danielle Paige- Dorothy Gale gone rogue? Who would have thought such a thing? Well the time has come where Dorothy is the great leader of the land of Oz, and Amy Gumm has been recruited by the Revolutionary Order of the Wicked. Find out more about this book by checking it out in the Blaze Library. 
4.) It's Kind of a Funny Story by Ned Vizzini- This book may not be for everyone. It deals with medical issues that some readers may not be able to handle. 16-year-old Craig Gilner checks himself into a mental health clinic where he meets Bobby his mentor and Noelle, a fellow teen in the clinic. Read more about all of them at the Blaze Library.  
5.) The Shadow Queen by C.J. Redwine- A crowned princess and fugitive at large, Lorelai, has one mission and that mission is to kill the wicked witch who look the Ravenspire throne and who took the life of her father. Read more about it at the Blaze Library. 
6.) Shiver by Maggie Stiefvater- Shiver is the first book in the four-book series, The Wolves of Mercy Falls. Grace and Sam both encounter each other in the weirdest of circumstances; Sam is a wolf who has been living the woods in the winter time for a long time. Grace is a girl who has been looking at the wolves in the woods behind her house for years. Little did she know, she was looking at the yellow-eyed wolf named Sam her whole life. Read more about it in the Blaze Library. 
7.) To All The Boys I've Loved Before by Jenny Han- Lara Jean is a teenager girl who isn't very good at saying her words out loud, so she writes them in letters. Letters to all of the boys she's ever had any inkling of feelings for. Peter Kavinsky is one of those boys that Lara Jean wrote to. There is also a movie of this on Netflix. Find out what Peter and Lara Jean have to do with each other at the Blaze Library. 
8.) Turtles All the Way Down by John Green- 16-year-old Aza never knew she would end up in the position of helping a fugitive billionaire. The only reason Aza and her friend Daisy are helping is because there is a huge reward at stake. Find out more about Aza and Daisy in the Blaze Library. 
9.) Burned: A House of Night Novel by P.C. Cast- Everything is falling apart at the House of Night. Three girls in this book have no idea what they're dealing with. If they don't realize what they're doing, then they'll get burned. Look for this book in the Blaze Library. 
10.) Caraval by Stephanie Garber- Scarlett has been told that everything that happens during Caraval is only an elaborate performance. She nevertheless becomes enmeshed in a game of love, heartbreak, and magic with the other players in the game. Whether Caraval is real or not, she must find Tella before the five nights of the game are over, a dangerous domino effect of consequences is set off, and her sister disappears forever. Look for this book in the Blaze Library today!