5 Bands You Forgot About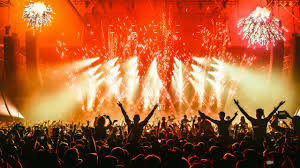 Hang on for a minute...we're trying to find some more stories you might like.
Bands are a critical part of American music, some of the biggest bands like ACDC have inspired a newer generation of music. Due to their influence, the standard that bands are held to have been amped.
Just like solo artists, bands can die out or decide to disband due to creative difference. Here are 5 bands you probably forgot about. 
Foster the People– American Indie Rock band formed in 2009. Their most famous song was Pumped Up Kicks, the song and the video tackled the Columbine shooting and raised awareness about school shootings in general. Current members are: Mark Foster, Mark Pontius, Sean Cimino, Isom Innis. 
Naked Brothers Band– Made up of Nick and Alex Wolff, the band was created on their Nickelodeon series, The Naked Brothers Band. They haven't released any music since their bands end after the show was cancelled in the early 2000's. 
Cobra Starship– An American pop/electric band formed in 2006. Their most famous single, You Make Me Feel So…, charted relatively high on the Billboard charts in 2011 and currently has 119M views on YouTube. They unfortunately disbanded in 2015. 
Allstar Weekend– California based pop rock band was formed in 2007. They gained notoriety from the Disney Channel show Sony With A Chance. Their most famous song Not Your Birthday was played constantly on Radio Disney in 2012, they disbanded later that year. 
The Jonas Brothers– Formed in 2005, the Jonas Brothers rose to fame from their multiple appearances on Disney Channel. They released 3 albums and had their own TV show on Disney Channel, which was cancelled after two seasons. Since their disbandment two of the brother, Nick and Joe, have continued with their music careers. 
Although bands may disappear their music never does. Watching the rise of an artist that you truly connect with can be one of the most exciting things you may experience.