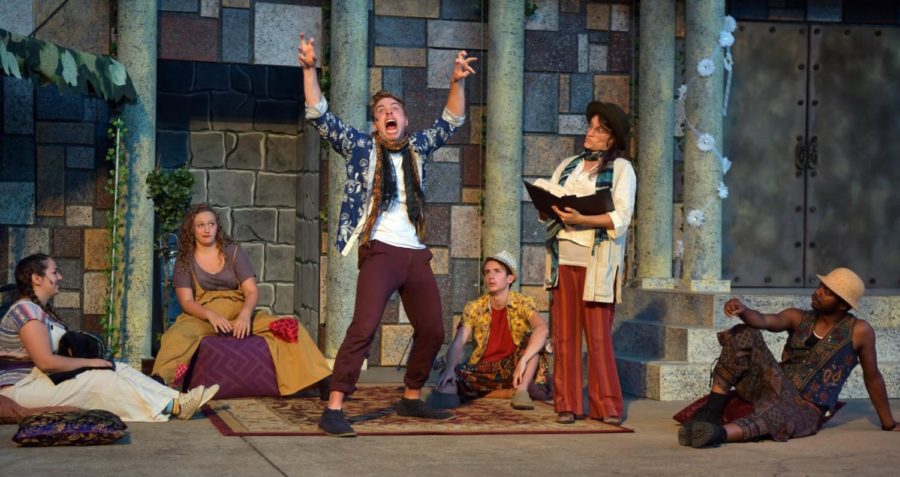 Seraphim Sherman: A Local Star
September 14, 2018
Seraphim Sherman, senior, is a student at Blackman High who has taken on a role in a local production. He is starring as 'Flute' in the musical A Midsummer Night's Dream by Shakespeare.  
This comedic musical is revolving around the events of Theseus and Hippolyta's marriage. They performed at the 30th Anniversary of the Nashville Shakespeare Festival and will continue to perform in Franklin from September 13-16 starting at 7 p.m.  
Sherman has starred in several of Blackman's high school shows such as the variety shows and Legally Blonde. He is now moving onto major roles to expand his experience.  
"I auditioned last year on a whim and made it in, I loved it, and decided to do it again," Sherman stated. 
With this musical in his agenda, it had taken up most of his summer vacation with rehearsals from 5-10 p.m. from July 9th to August 7th.   
The AP Literature IV class was also given an opportunity of extra credit if they attended this musical. Destiny Smith, senior, attended the show during a Saturday. 
"It was pretty cool. Seraphim is my classmate and seeing him on stage was strange, because he has a personality when he's at school, but on stage he's a different person," Smith stated. 
Elisa Burks, AP Literature teacher, was also able to attend the event with some of the students and has attended previous Nashville Shakespeare Festivals.
"Getting a chance to see a member of our BHS family in A Midsummer Night's Dream was very exciting, but even better was observing how much Seraphim Sherman contributed to the excellent humor and overall brilliance of this performance," Burks stated.
However, the performances are not the only thing on his plate as he is a member of the Blackman Collegiate Academy, which requires the seniors to conduct a Capstone project.  
To manage his time he says, "I do what I can ahead of time. Apart from that I either have really late nights or really early mornings trying to finish work for a few specific classes."  
He is a capable student who can stay on top of things. 
At these practices, Sherman met new people and interacted with other local actors.  
He mentioned that he loved, "getting to know and befriending all the talented people we have in our cast. Getting to be in every scene with Sam Douglas (Bottom) has been nothing but fun."  
Sam Douglas played the character of 'Bottom' who was an actor within the musical who turned into a donkey. Sherman interacted with Douglas as the female actress within the play and was in many comical scenes. 
Seraphim Sherman has a love for theatre and plans to pursue it in the future. He will continue to audition for musical and plays in his area that will soon expand outside of Tennessee.