Midterm Value Change Impacts This Semester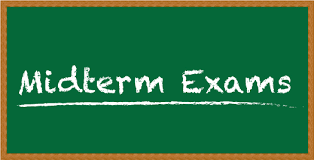 Testing season is full of tears for some. For others, celebration and relaxation. Whatever the case, that time is here. 
Midterms are fast approaching, and with that oft dreaded arrival comes some unexpected news. Rutherford County Schools has modified the value of the midterm.
Instead of the classic 25% weight, the test will now be weighed at 15%. This adjustment has been applied to the EOC exam as well.  This means individual quarters are now weighted 42.5% now instead of 37.5% of the final grade.
In essence, this new adjustment means that one's grade on the their midterm or final exam, poor or otherwise, will not produce such profound effects on their overall semester grade.
Hopefully, this news leaves the Blackman student body in good spirits over the holiday season.  
Make sure to study, so you can pass the semester even if your quarter grades aren't where you want them. Talk with your teachers about any work you've recently missed. After all, the flu, strep, and other illnesses are keeping many students away from their classes.