Fall Fashion Trends You Need To Try!
Sweater weather is back on track with more ways to style your clothing to fit the chilly weather. It is the season for trial and error to find styles that fit you best!  
Here are a few suggestions that are sure to turn you into a trendsetter this fall. 
Strong colors that accentuate the colors of fall, such as burgundy, green, and purple, are the colors to wear for a fall outfit. 
Styling a sweater with a knitted scarf allows for a cute look that keeps you comfortable. With scarves, the hairstyle to wear is a bun, ponytail, or letting loose with your hair down. 
In fall, the weather fluctuates from time to time going from cool to hot. Wearing a graphic tee and layering with a leather jacket will allow you to stay warm, or you can keep it cool by removing the jacket and just rocking a t-shirt. 
Over-sized t-shirts and skinny jeans is another great look. Include a small tuck in the front of the t-shirt to give you a more cleaned up look. Then style with a pair of Birkenstocks to tie the outfit together. 
Stripes are a great pattern for fall with diverse ways to style them. Horizontal stripes are more figure-flattering and give more curves to an outfit. Vertical stripes give a slimming-look and make you seem taller. 
Give these suggestions a try this week to give your outfits the fall touch! 
About the Writer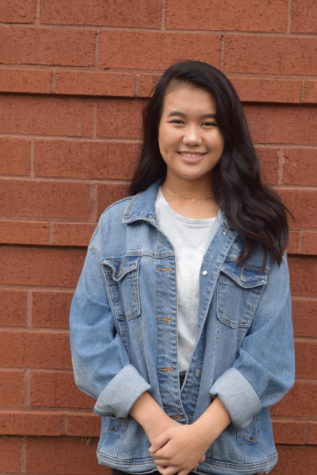 Danielle Paredes, Editor-in-Chief
My favorite things in the world are my friends and family. It's cliché, but what I truly value most is finding to take time out of my day and having...