The Lady Blaze Dominate Early District Play
Ethan Morrow, Editor-in-Chief
September 9, 2016
The Lady Blaze soccer team opened up district play this past week, after playing away games at Lavergne and Smyrna on Tuesday and Thursday, respectively.
In the game against the Lady Wolverines, freshman forward Aliyah Vaughn bagged a hat-trick and added two assists as the Lady Blaze won in a rout, defeating the Wolverines 9-2.
"Knowing that our offense can score 9 goals in one game is very uplifting to me and the rest of the team," said Elise Chessor, junior keeper.
Two days later, the Lady Blaze were able to stay perfect for the week, as junior midfielder Kenzi Vetter netted a goal and assisted a score in the Lady Blaze's 4-1 victory over Smyrna.
"Starting off strong gives our team confidence going into the next district games. It gives us a back bone when we go into the games against Siegel and Oakland," said Vetter.
The Lady Blaze will continue to rely upon production from freshman Aliyah Vaughn, as she had an impressive week, scoring four goals and grabbing two assists in the team's two games.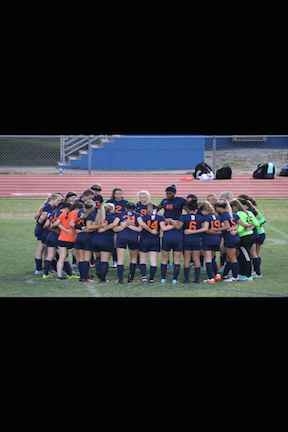 Look for the Blaze to continue their hot start and display that back bone in district play as they travel to Siegel to take on the Stars next Thursday.