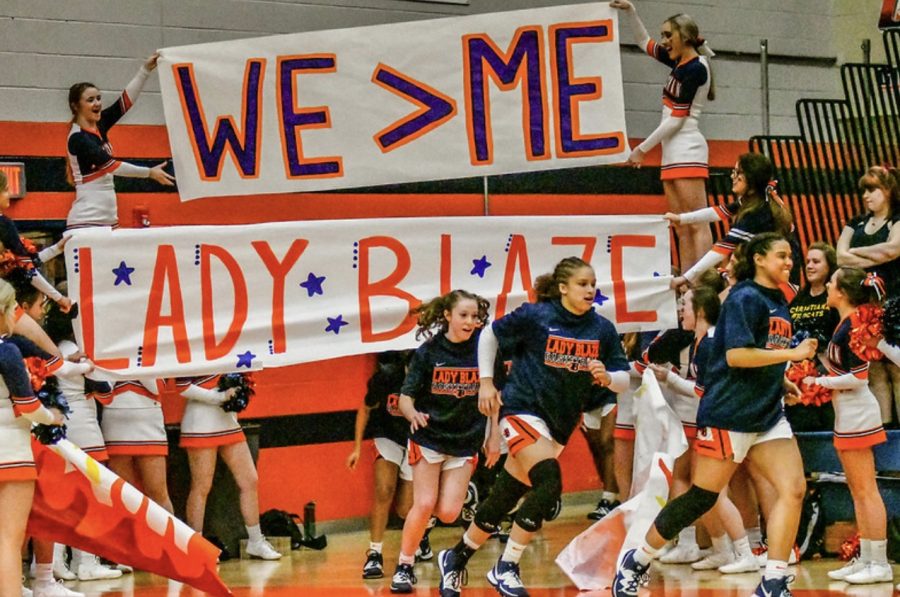 Courtesy of Kim Baumann
The Blackman Lady Blaze Basketball team had a very successful 2019-20 campaign. They accomplished many feats including finishing first in the regular season in the district and winning the region tournament. Unfortunately, their season was cut short in a home loss in the sectionals to the Stone Memorial Lady Panthers who are currently in the semifinals of the postponed state tournament.
The sectional game was one with a terrific atmosphere at The Furnace that went back and forth the whole way. Blackman held a 32-26 lead at the half but a 14-3 run in third quarter by the Lady Panthers gave them the 42-38 lead at the end of the quarter.  The fourth quarter was more of the same with the game eventually going into to overtime with the score tied at 50.
The Lady Panthers took a 56-54 lead with 1:28 left in overtime. After that, some costly mistakes by Blackman allowed Stone Memorial to pull away from the Lady Blaze and win 58-55 in overtime. Blackman was one win away from a state tournament appearance.
"Despite the fact that we fell short in the sectionals, we still had an amazing year with some huge wins over the course of the season," said head coach Wendi Scott. "The girls grew in many areas on and off the court."
Before the season, many coaches set goals. The season is always a success when you can accomplish those goals.
"We had four goals this season: win at least 20 games, beat Riverdale, win a championship, and a state tournament appearance."
The Lady Blaze accomplished three out of those four goals this season. Since Blackman only had 3 seniors this year many people will expect them to achieve that one goal they did not accomplish this year next year, making it to the state tournament.
"I feel like we have the experience combined with quality youth that got quality minutes this season to come back and be even better next season," Scott said.