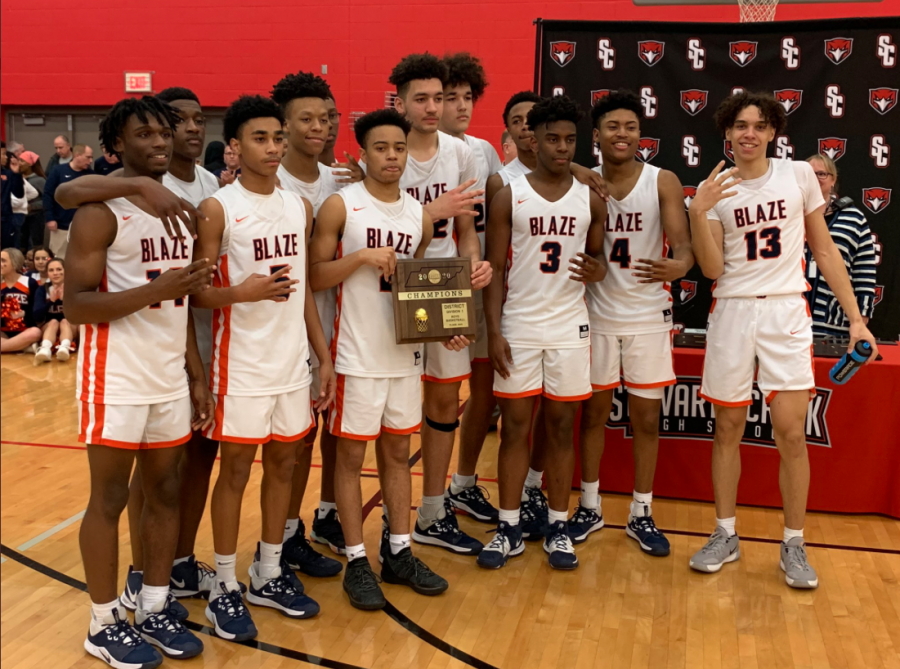 Courtesy of Dr. Justus' twitter
The Blackman Blaze came into the 2020 District 7-AAA Basketball Tournament at Stewarts Creek High School as favorites to win it. With a record of 20-3, the Blaze had momentum heading into the tournament. Because of Blackman being the top seed, they did not have to play until the semifinals.  
In that semifinal matchup, Blackman faced the Riverdale Warriors. Although Blackman beat the Warriors in both regular season matchups, Riverdale was coming off a 56-37 upset win in the second round over LaVergne. This game certainly wouldn't be a cakewalk.  
The Blaze pulled out to a halftime lead of 33-16. Blackman was a little rocky during the second half, but still did enough to advance to the championship game by a score of 62-51. Coming off the bench, senior TJ Cross was leading scorer for the Blaze with 14 points.  
"I thought our team came out with a lot of energy, and other than a little stretch in the third quarter where I thought we could've been a little more efficient I was pleased with our performance," said Barry Wortman, head coach.  
Directly after that game Oakland and Siegel met in the second semifinal for the right to face Blackman in the championship game. This game was an all-time classic that was back and forth the whole way. Eventually, Siegel pulled away winning in overtime 69-63 to get their third win over Oakland this year.  
In their two previous meetings this year, Blackman and Siegel played a couple of great games. Although the Blaze won both games, Siegel stayed right with Blackman the entirety of each game. The championship game was sure to be a good one.  
The game got off to a fast start with the two teams nodded up at 14 at the end of the first quarter. Things did not change much in the second quarter as Siegel had just a 27-25 lead at halftime. The first half was an indicator that this game would go down to the wire.  
The Blaze got off to a hot start with a 10-0 run to open the third quarter. Senior Jalen Page threw down a monster dunk to end the third quarter that blew the roof off the gym. Blackman held a 44-37 lead at the end of the third quarter. 
Siegel went on an 9-0 run that gave them a 51-49 lead with 3:17 left in the game. Coming out of a timeout by Blackman, senior Kailon Benton-Hamilton hit a huge three pointer that gave the Blaze the 52-51 lead with three minutes to go in the game. With 14 seconds left, Page hit two free throws that sealed the championship victory 59-53 for Blackman.  
"It's like Kobe said, I've shot 10,000 of these what's one more time so I just knocked them in," said Page after the game.  
To be sure, winning the district tournament is never something a team ever takes for granted. 
"They're so hard to get in this district so I'm awfully proud of this team and how they played against a quality team like that," said Wortman.  
In addition to the district championship, some of Blackman's players took home individual hardware as well. Benton-Hamilton, Page, and Ray Tyler were named to the All-District team. Page was additionally named to the All-Tournament team. Also, Tyler was named the Tournament MVP.  
"It means a lot because it shows that the hard work is paying off," said Benton-Hamilton.  
Tyler's season has been even more impressive due to his transition from Oakland to Blackman.  
"I put a ton of time in in the gym so it's really rewarding for me," said Tyler.  
Page is one of the hardest workers for the Blaze, and he shows that every game.  
"It's a badge of honor and a symbol of work for me and it feels good to be recognized for it," said Page. 
Blackman is now in the Region 4AAA tournament and have won both their quarterfinal game against Coffee County, and their semifinal game against Oakland eliminating them both. Blackman now plays Siegel in the region championship game at Stewarts Creek on Thursday night at 7pm. Both teams have already secured a spot in the sectionals, but the winner of this game gets to host sectionals. It will be the fourth time these two acquaintances meet this season.