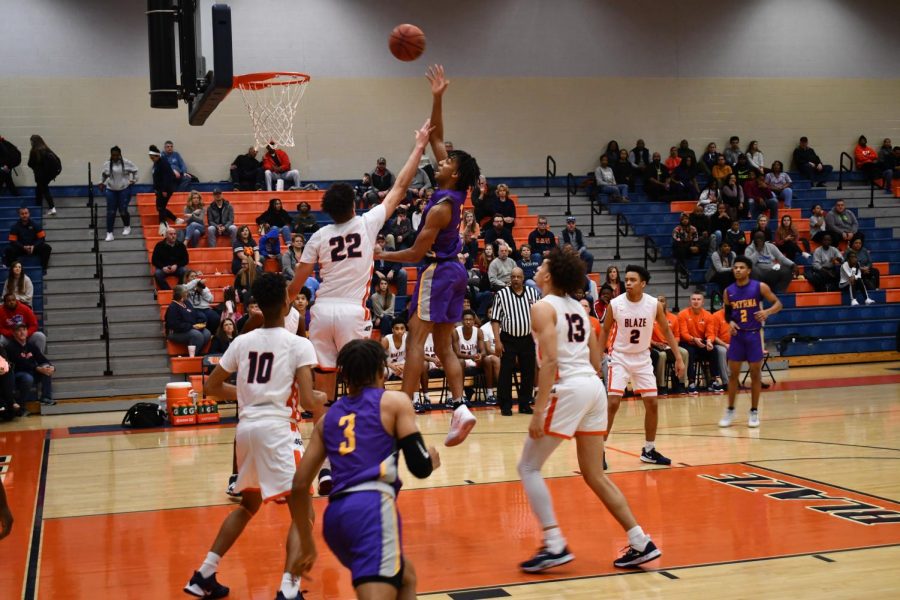 Christian Skelton
The Blackman boys' basketball team won 14 out of their first 17 games, giving them a current record of 14–3. Additionally, the Blaze started district play 7-1, only losing to Oakland.  
Before the start of district play, the Blaze played in three holiday tournaments against some of the best high school competition in the south. In those seven games, the Blaze went 5-2. The two losses were by a combined three points, proving the Blaze would be a force to be reckoned with in district play.  
Through eight district games, Blackman's home wins over LaVergne, Rockvale, Smyrna, and Riverdale were by an average of just under 25 points per game. Defending your home floor is always a key to a successful season; thus far the Blaze have done that.  
Blackman still had local competition to face away from home. In their first district game on December 13th, Blackman had to face a tough Siegel team on the road. Senior leadership prevailed, and the Blaze got the 58-51 win.
"I took it personal to get better everyday," said senior Jalen Stayton.  
Stayton has emerged has a senior leader for this team. He has embraced the leadership role and has been a very valuable asset.  
"I model my game after Tim Duncan" said Stayton.  
This is evident when you watch him play as the 6'7" big man is a force in the post.  
Another leader senior leader for the Blaze has been senior Ja
len Page. Along with Stayton, the two have been a deadly combination that has been very difficult for opposing teams to stop. 
"I try to lead by example for this team and being a leader is always something that's come natural to me" said Page.  
On January 21st in the other road game in the district thus far Blackman faced familiar nemesis Oakland. Blackman and Oakland should be neck and neck for the district title for most of the season. This was a big game early in the district schedule.  
At one point in the game, the Blaze held a 46-40 lead with 1:15 left to go. However, costly turnovers and missed free throws gave the Patriots an opportunity to tie the game. In the end, Oakland pulled away in overtime stealing one from the Blaze 59-57.  
"We just had a bad game, and our key scorers didn't score as much as they usually do," said Stayton.  
While this was definitely a tough loss for the Blaze, it did not set them back too far in the district race. Blackman will get another shot at Oakland at home on February 14th in the last regular season game of the year.  
On January 29th the Blaze were faced with a pivotal rematch against the Siegel Stars at home. This was a huge game in the district standings with both teams coming into the game tied for first with Oakland. This resulted in a big stage and a great atmosphere during the game.  
"It was a bunch of fun to play in because it was similar to a tournament atmosphere" said senior Kailon Benton-Hamilton.  
Benton-Hamilton lead the Blaze in scoring in the game with 17 points and going 5/12 from field goal range. He also hit a couple of clutch threes down the final stretch that helped Blackman get the 66-56 win.  
"My teammates found me a lot of open looks in transition and got me the ball" said Benton-Hamilton.  
Blackman was faced with another position where to win they were going to have finish the job as the Blaze held a 55-50 lead with 2:25 left in the game.  
"I called a timeout with two minutes left and pointed at the clock and said let's finish this one" said Head Coach Barry Wortman.  
In Blackman's three losses they held at least a five-point lead with a minute left in all of them. They found a way to finish against the Stars which should be a confidence boost if the Blaze are in that situation again.  
Currently, Blackman is tied for first place in the district with Oakland, putting Blackman in a prime position to bring home a district championship.