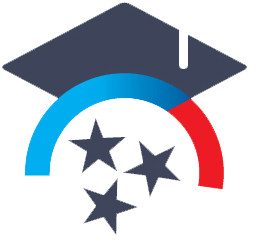 Courtesy of TN Promise's website
 
TN Promise Scholarship 
TN Hope Scholarship 
What are minimum requirements for scholarship? 
High school degree or GED/HISET, attend mandatory meetings and participate in the mentoring program 
Tennessee resident for at least 1 year, graduate from an eligible TN high school, minimum 21 on ACT or 1060 on SAT, minimum 3.0 GPA (unweighted), enroll in an eligible TN institution 
Which colleges accept the scholarship? 
Tennessee Colleges of Applied Technology, some Tennessee community colleges, some public and private TN colleges 
Assorted institutions in TN; Austin Peay State University, Belmont University, Columbia State Community College, East Tennessee State University, Vanderbilt University are only a few on the list 
How do I apply for the scholarship? 
Complete the TN Promise application on the Promise website. 
Complete the FAFSA (Free Application for Federal Student Aid). 
How many years is the scholarship available? 
For each college term, complete 8 hours of community service to continue the scholarship 
5 years pass from initial enrollment at any college 
What does the scholarship cover? 
Tuition costs and other related fees that are not covered by other Tennessee-specific scholarships 
Tuition and some room-and-board costs ~ price varies depending on the institution student attends 
Frequently Asked Questions (FAQs) – 
How long will the student have after high school graduation in order to still be eligible for the Promise scholarship? They will have until the fall-term following their graduation. 
Will the student keep the Promise scholarship if they take military leave? They are allowed to take military leave, but they will have to complete all initial eligibility requirements. 
If you miss the deadline for the Promise, can you still apply? A student who misses the deadline of November 1st is no longer eligible for the scholarship. 
Where is there more information about the scholarships? For the Hope: https://www.tn.gov/collegepays/money-for-college/tn-education-lottery-programs/tennessee-hope-scholarship.html 
For the TN Promise: https://www.tn.gov/collegepays/money-for-college/state-of-tennessee-programs/tennessee-promise-scholarship.html