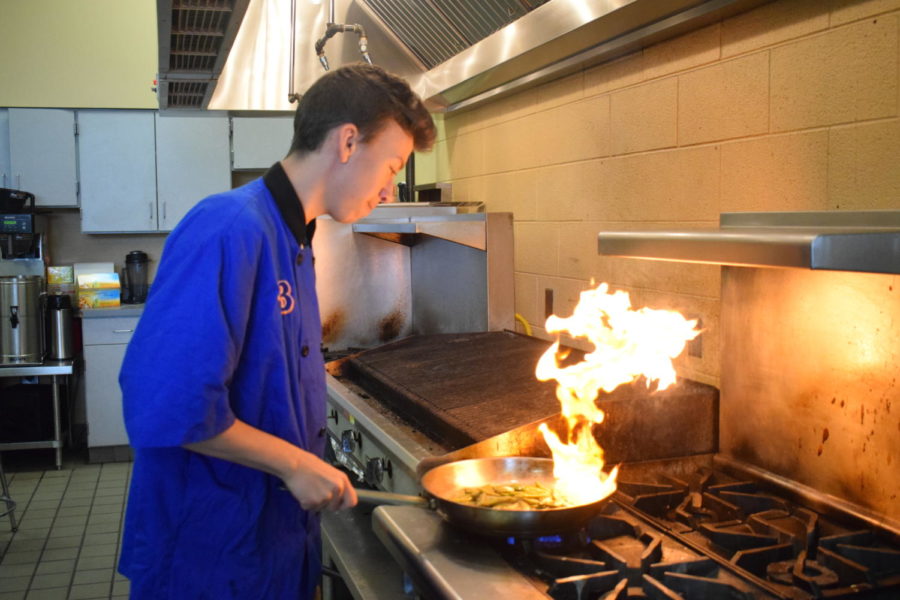 Blackman High School was recognized as one of the elite hospitality programs in the USA.  Hospitality and tourism are all about food and accommodations. The pathway of hospitality and tourism is a competitive career path to go down and experience.   
Recently, the BHS culinary arts program competed in the Elite 50 event. The Elite Hospitality Program is a culinary arts event hosted by Sullivan University, which also happens to be one of the many colleges of hospitality studies. 
The Elite 50 event is competitive, and they look at which culinary program goes above and beyond their specific requirements. Everyone had to be on top of what needed to be done because when going above and beyond requirements you cannot afford a mistake when you are trying to be set apart from other groups. 
"Here at Blackman, we always do extra stuff. We want to do more events where students have more on the job training," stated Culinary Arts teacher, Frank Pinnix. 
Blackman culinary arts students are motivated by their passion and dedication in the field of hospitality and tourism. 
"I'm prideful because we take time out of our schedules so we can do these events," said Ryan Barone, junior. 
"It shows that we are one of the best culinary programs in the nation," said Andrew Dodson, junior. 
These students put all their effort and hard work into cooking and their presentation.  
"I think I have a strong work ethic and whatever I put my mind to I want to get it done," said Dodson. 
Being taught what to do and doing what you are taught in a hands-on environment are two different things. With the advice, teaching, and supervision of their chef, these students know how to perform their craft for future opportunities. 
"Yeah, like just taking pride in everything we do and cleaning every last dish, and just finishing everything we need to do," said Jalen Page, junior. 
Students regularly get hired while working in the school's kitchen, versus getting an interview for a job and maybe getting a phone call back. It's important to take opportunities like these. 
"I think it encompasses all the hard work we do in the kitchen throughout the week and in the classroom," stated Dodson. 
"I just have a passion for whatever I do, and that sets me apart because I want to work at it," stated Page. 
Hardwork and dedication goes a long way, but ultimately, working to get better at your craft is what makes these students feel accomplished. 
 The culinary students provide food for the majority of Blackman's banquets. They also showcase their talents by cooking for the school one Thursday out of every month.