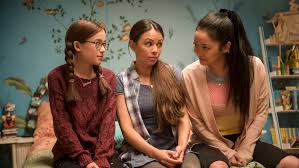 In April 2014, "To All the Boys I've Loved Before" by Jenny Han was published and middle school girls around the world read this fiction romance book cover to cover. This one book soon became a trilogy and spent forty weeks on The New York Times Bestseller List. The book became a favorite among young girls in many middle and high school libraries across the country. 
When Netflix announced a movie was being made of this popular young adult fiction book, teenagers felt the excitement and nostalgia from reading the novel earlier. The movie was released in August 2018 which sparked an immediate rise in Netflix views.  
Upon comparison, minor differences between the book and the movie such as confessed feelings, lack of confrontational conversations, and stolen kisses. Although the movie lacked a few emotional conversations that took place in the novel, the movie was produced well enough without those moments. Removing those scenes were a director's decision, and the removed scenes weren't crucial to the storyline.  
In the book, Josh kisses Lara Jean while in the film, this doesn't occur. Josh does not confess his feelings for Lara Jean in the movie, but he does so the book. These minor differences don't add too much to the story, thus making them small and somewhat insignificant.  
Han feels as though the story isn't over for Lara Jean, but her place in Lara Jean's story may be. She plans to keep the series as a trilogy, with no intention of going further than that.  
Some fans of Han noticed her adorable cameo in the film too. She stood in the background of a dance scene as a chaperone smiling the entire time as her characters came to life before her. This precious moment has since been appreciated on multiple social media platforms by fans. 
Many fans enjoyed finding out that Han was included in the filming process as well as had a say in some of the set design. It's important that Han had a voice in the filming process to fulfill the view she had for the story when writing the book. When the author is given the authority they deserve, it adds respect.  
Lana Condor and Noah Centineo recently made the announcement that a sequel to the movie is being made, triggering a wave of excitement throughout the fanbase. I hope to see similarities between the book and the movie, maybe the introduction of new characters, and Lara Jean and her sister reunited in the upcoming film. How will the potential and elation for this series be fulfilled in the following actions taken with this film/ book series?