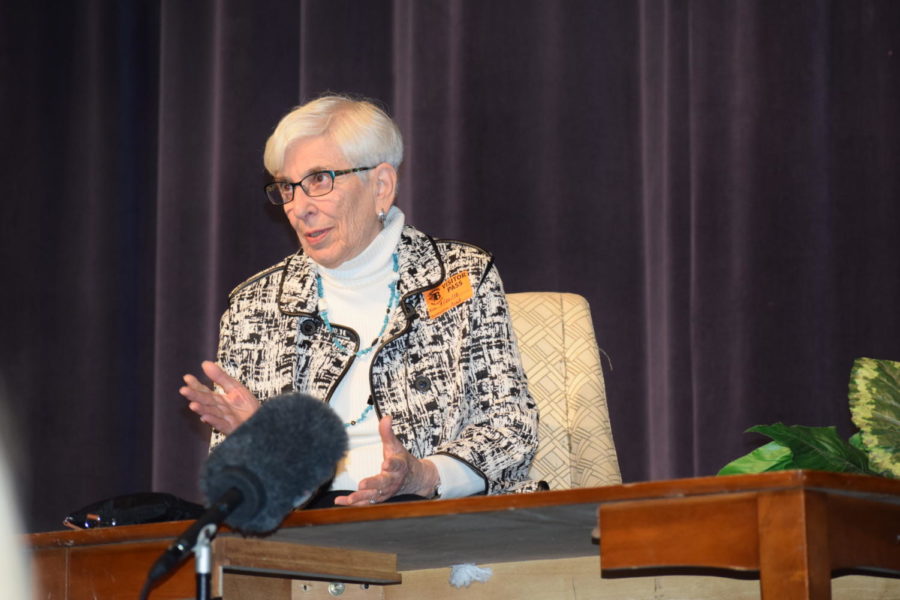 Danielle Paredes
"I had to know I didn't come from a black hole." Those were the words of Esther (Rosenfeld) Starobin as she sat in front of an audience at Blackman High School.  
It clearly wasn't the first time she had told her story. 
Esther and her husband journeyed back to the home she has no memories of — a place called Adelsheim, Germany.   
This is where her story began. Her parents, Adolf and Katie Rosenfeld, had five children: Bertl, Ruth, Edith, Herman, and Esther.  
Adolf lost his leg in World War I and sold grain for a living. Adelshiem was a small town with only 10 Jewish men (enough to attend synagogue). The year Esther was born, her parents lost a court case and subsequently their business.  
Around this time, Hitler became powerful in Germany. Like others of Jewish heritage, the Rosenfelds felt his presence in their daily lives.  
Not long after that, Esther's sisters saw their synagogue burning and were no longer allowed to attend school in their town.  
Their parents decided to send all the girls on the "kindertransport," which would send them out of Germany until the crisis was over, with the promise they would all be reunited one day.  
When people hear "Holocaust survivor" many think of climatic stories like that of Anne Frank, filled with personal experiences in concentration camps, but Starobin is a perfect example of a less rigid definition of a survivor. 
"I am a survivor because I was sent away from Germany." That was a twist that made the students of Blackman even more fascinated in Esther Starobin's story.  
"When I first heard about it, I thought she was in the camps, but after hearing her story and finding out she was sent away from her family to escape it, I found it very fascinating. I didn't think [that] would be considered a survivor; however, to be taken away from your family and have to live with someone else all your life takes courage," Destiny Smith, junior, stated. 
Esther Starobin's older sister Bertl lived with a foster family in Scotland and soon found out that her, "foster father was actually a spy for Germany, so when they had been in Scotland, he'd been keeping track of things and sending it to Germany."  
Her second sister Edith (whom she called Edie) was sent to a Jewish family in the countryside of England. Edith said that "she was treated like a slave." Once she had grown up, Edith decided to join the Women's British Army.  
Ruth, her other sister was sent to live with a Jewish doctor and his wife in London. She was evacuated and had to live with another family, until she ended up living in a hostel. 
Esther Starobin was two years old and two months old when she was sent in the Kindertransport in June of 1939. She was sent to the Harrison family, whom she affectionally calls "Uncle Harry" and "Aunty Dot" and Alan who is like a brother to her. During her school years, she was required to carry gas masks and saw many planes and bombs fly overhead.  
Esther was arranged to reunite with her family in the United States and arrived in New York to meet her uncles and to then fly to Washington, D.C, where they would live. While they were living in D.C, they heard news of their parent's passing after they were sent to Auschwitz.  
"I did not know what to expect from her, honestly! I had seen a little bit of her online, and I thought this was an opportunity. We had a shot, so we [should] take it. I thought it was really [a] moving story, of really not knowing her parents, going to the foster parents, and coming to the States, becoming a teacher, then finding out about her parents [who] were killed in Auschwitz," Brian Seadorf, Blackman librarian, stated. 
Starobin later attended the University of Illinois and got a degree in education and got married. Her and her husband had two daughters, but throughout her whole adult life, Starobin craved knowledge of her family roots.  
Through Bertl's letters and trips to her hometown of Adelsheim, Starobin learned of her mother's hardship and people who had connections to her parents. 
Through learning about her past, Starobin feels she can finally move forward to her future.  
She now volunteers at the United States Holocaust Memorial Museum in Washington D.C., which tells the stories of those impacted by the Holocaust, like Esther Rosenfeld Starobin.