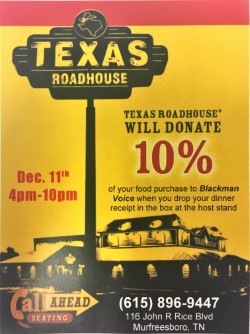 Journalism is having a fundraiser! On Monday, December 11th, the team is partnering with Texas Roadhouse to raise funds to support our program. The event will take place between 4 p.m. and 10 p.m.
Ten percent of the profits will be donated to the staff with every meal bought, so friends and family are encouraged to attend. During that time, the restaurant will be collecting receipts from participants. A box for the receipts will be located by the host stand that night, so don't forget to drop it off after your meal.  
Texas Roadhouse is located on 116 John Rice Boulevard, Murfreesboro, TN 37129. For "call ahead seating," you can use this number 615-896-9447 to avoid the wait.
Come out to support your school newspaper!