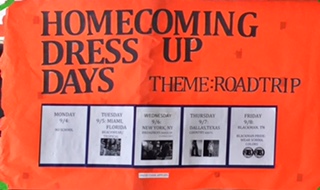 Shamani Salahuddin
This upcoming Friday, September 8th, is the annual Blaze Bash. For you newcomers, Blaze Bash is an all-day event dedicated to kicking off the football season. Here's what you need to know to be prepared for the day!
Friday's Schedule:
 9:00 to 10:15 Parade
The parade will be held in the front of the school where clubs, sports, and the homecoming court will throw out candy to the masses.
10:15 to 11:15  Blaze Games (class competition in the main gym)
Everyone will rally together to cheer their classmates in the Blaze Games!
11:15 to 12:30 Blaze Bash (Club sponsored food/activity booths open to all students)
Outside the main gym, different clubs and sports will have booths with games and food available for purchase.
12:45 to 2:30 PowderPuff (football field) OR 3‐on‐3 basketball (main gym)
$2 ticket gets student in to either event. Buy tickets at lunch in the bank Tues.-Thurs. or before school on Friday.
Cheer on the girls PowderPuff game at the stadium or root for the guys as the play 3-on-3 basketball in the main gym.
2:30 to 3:30 Pep Rally (main gym)
To close the eventful day, students show their Blackman Pride by participating in the class competition.